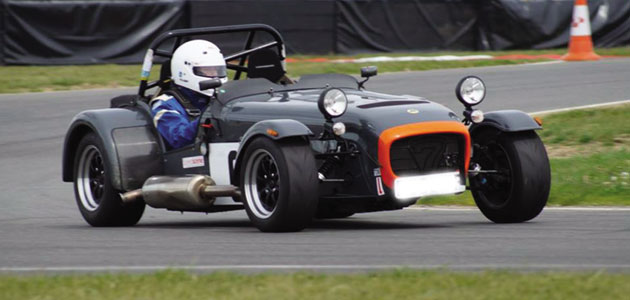 Stephen Laing is proof that age is no barrier when it comes to the thrill of speed.
The 68-year-old has enjoyed a long and successful amateur racing career specialising in sprint events and hill climbs, most recently at the wheel of his Caterham R500 and Lotus Exige.
And his enthusiasm for the sport has not dimmed over the years and he is still competing at the highest level both locally and nationally… and still winning.
Stephen's love of racing was sparked by his father, John, a Norfolk farmer, who was an enthusiastic motorsport fan, regularly taking in meetings at the county's Snetterton circuit.
He said: "My father was a keen spectator but I got my first taste of racing with the local Young Farmers' Club and in the early days got a lot of support from ex Formula 1 driver Martin Brundle's father, John, who lived locally.
"I started to take part in local events and found that I was surprisingly competitive. I had a Mini Pick-up which was replaced in 1967 by a 997cc Mini Cooper. As well as being my daily transport, this proved to be a very successful autocross car. However, by the early 1970s, the sport of autocross was evolving in to rallycross, which attracted extensive national television coverage as opposed to the regional television coverage enjoyed by autocross.
"This resulted in car manufacturers' teams, together with other well-funded professional teams, investing a lot of money in the sport, but I managed to be competitive on occasions despite the gulf in funding."
Stephen, who spent his working career in the agro-chemical industry as a sales manager and then executive with Fisons and Dow Chemicals spending time working in the UK, France and the USA, had a break from racing when his family were young, but remained interested in the sport and returned to competition with his Lotus and Caterham, since when he has won numerous races and championships.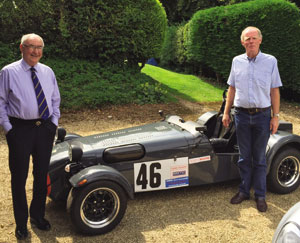 His success in his chosen sport has been helped by a chance meeting with former NGK Spark Plugs (UK) Ltd Managing Director and Chairman Jim Hughes, who lives in the same Norfolk village.
Stephen said: "We met a few years ago while we were both out walking our dogs and started discussing cars and his career with NGK. He recommended that I used their spark plugs."
Tim Howes, NGK's Deputy General Manager – Supply Chain & Technical Service, suggested that Stephen used the company's Iridium plugs and since then he has never looked back.
He said: "Tim was exceedingly helpful and I started using the Iridium plugs in the Exige. I have to say they made a noticeable difference straight away. The car ran much better and I wouldn't use anything else now. They are so reliable, and have helped me keep winning."
Stephen, who is married to Alison, and has two children, Hamish and Rebecca and five grandchildren, said the cost of racing is not prohibitive.
He said: "It can be as expensive or as inexpensive as you want to make it. It costs between £100 and £150 to enter the events. I carry out most of the basic maintenance work myself so there are not too many additional bills.
"I still get excited about racing and obviously enjoy winning if I can, but nowadays I'm more pleased if I know that I have raced as well as I can and have got the maximum out of the car. Competing is still great fun and I enjoy the off-track banter as much as ever and mixing with competitors aged from 18 to 80."
Ignition specialist NGK has long been synonymous with motorsport, supplying some of the world's leading two and four-wheel teams with its products and helping racers to countless victories.
The leading supplier of original equipment (OE) spark plugs, glow plugs and NTK sensors sponsors the Scuderia Ferrari Formula One team, the Qatar M-Sport World Rally Team, which competes in the FIA World Rally Championship, and a number of MotoGP and Speedway riders.
But the company is just as proud to also support competitors at the lower end of the racing scene.
 Jim Hughes said: "Stephen is a great example of how enthusiasts can still enjoy the thrill of competition whatever their age. The cost of competing in amateur racing is not as expensive as many people might think. At NGK, we are delighted that we can help people compete in motorsport at grass roots level as well as at the very pinnacle of international sport with F1."