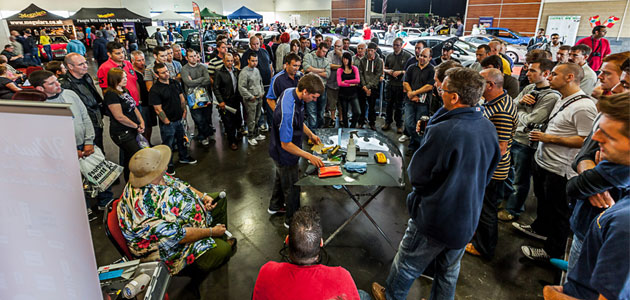 Waxstock, the UK's specialist car care and detailing show – and now one of largest detailing events of its type in Europe – has moved to a brand new venue, the Ricoh Arena on the outskirts of Coventry, on Sunday July 27 2014. Now in its third year, Waxstock 2014 will see exhibitors coming from as far as Germany and Singapore.
Organised by Detailing World, Zaino Europe and Dodo Juice, the event has attracted sponsorship from CodeClean, Angelwax and the Pro Valeters and Detailers association. Over 1,500 visitors will be expected at the one-day show.
Waxstock caters to everyone from complete newbies to enthusiastic amateurs and professional valeters and detailers. Expect a hands-on day of product testing, demonstrations, bargain-hunting and socialising.
Trade-wise, over 40 car care manufacturers, resellers and pro detailers will be gathering to sell the largest selection of detailing supplies ever seen under one roof (often at special show prices), impart expert advice and impress the crowds with their products and talents.
Waxstock will be held inside Ricoh Arena's Jaguar Exhibition Hall, which provides a well-lit and modern 'pillar-free' show space for up to 12,000 visitors: the perfect setting for live detailing demos and painstakingly prepared show cars.
The ValetPRO 'Arrive and Shine' will be open to all visitors on the day, with a special 'Best Works Vehicle' category so that valeting vans can square up against each other. Aside from that, there will be a pre-qualified concours competition, the Detailing World Showdown.
There will also be a 'live detail' so you can see a car's finish being restored in real time, tuition and demos at the Demo Zone Test Bench, plus an Embarrassing Bodywork 'paint surgery' and Kim's Corner, where nearly-new detailing products go on sale for a fraction of their high street price, with all money raised going to charity.