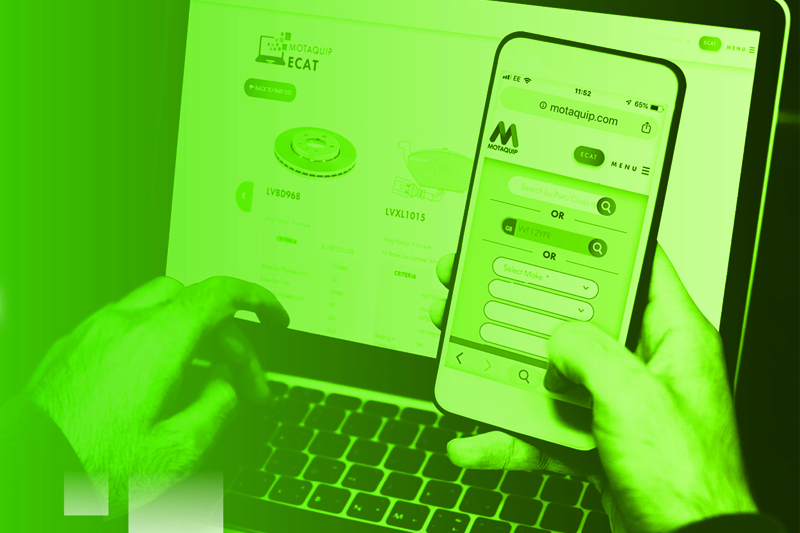 ---
Motaquip has further strengthened its customer service offering with the launch of its all-new, purpose-built eCAT system.
---
Built on a foundation of world-class data and validated by a TecDoc' A' rating, the system offers full OE and competitor cross-referencing across all makes.
Designed to deliver a simple, flexible user experience, the system works seamlessly across mobile, tablet and desktop devices. Providing exceptional functionality, users have access to multiple search options across criteria such as; part number, vehicle registration, make and model as well as OE and competitor cross-reference.
The tailor-made solution also displays technical specifications, buyers guides and product imagery by part number. Furthermore, the useful 'COMPARE' function provides the user with the ability to view specified part data side-by-side at the click of a button for easy and clear comparisons.
"We are delighted to introduce our all-new eCAT platform," said General Manager, UK Sales, Peter Cox, "Our customers are the lifeblood of our business, and we continually strive to tailor our solutions to meet their needs. When undertaking this sizeable task, we took the decision to start from scratch and build a bespoke product which focused on their needs delivering functionality which truly assists with the day-to-day running of their business."
Motaquip's Marketing Manager, Leigh Davies also added:
"There are lots of brand eCAT systems in the aftermarket, but I firmly believe that the new Motaquip platform stands out thanks to its ease of use and intuitive design. The development process has been lengthy and painstaking at times, but we are delighted with the end results and the positive feedback we have received thus far."
---
Click here
to experience Motaquip's all-new eCAT service.