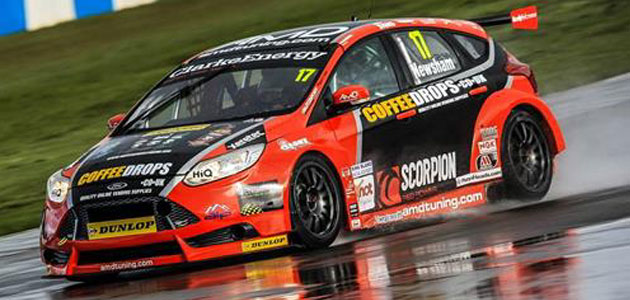 Specialist oil developer and producer Millers Oils is set to further prove and test its innovative oil technologies in the British Touring Car Championship (BTCC). Following the success of previously sponsored AMD cars in motorsport series, Millers Oils has signed a deal to provide AMD's BTCC Ford Focus with all necessary lubricants, including the award-winning Nanodrive engine and gearbox oils. The deal not only demonstrates that motorsport teams are recognising the potential durability and performance benefits of Nanodrive, but also gives Millers Oils a chance to further test and prove its technologies in the harsh environment of motorsport.
"The BTCC lubricant partner deal with AMD is the latest of our motorsport sponsorship deals, and adds to the recognition Nanodrive is receiving, throughout motorsport and automotive industries, for its durability and performance benefits," says Jason Lavender, Business Development Manager – Motorsport And Classic. "Previous dyno tests have shown the Nanodrive range provides a competitive advantage to teams fighting in a strictly governed series, such as an 8hp increase on a Mercedes SLS AMG GT3. This partnership will give us a great opportunity to prove just what Millers Oils can do in a motorsport environment."
The deal will see Millers Oils become the official lubricant technical partner for the AMD Ford Focus car, driven by Dave Newsham in the BTCC. Along with supplying the Ford Focus with CFS 10w60 Nanodrive engine oil, Millers will provide CRX 75w90 LS Nanodrive gearbox oil, R300+ Racing brake fluid, brake cleaner, Extra Cool radiator fluid and Hymol 20 Grease.