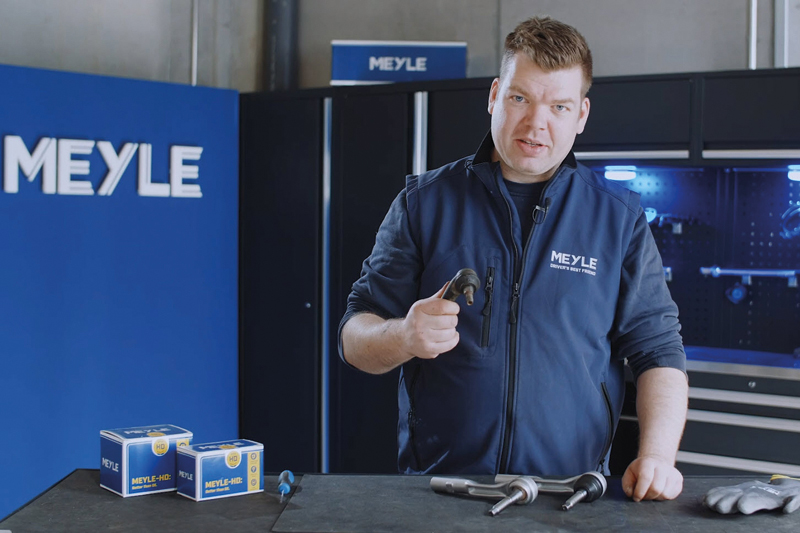 ---
Meyle has released a step-by-step video showing how the durability of a tie rod end can be significantly extended with just a few work steps.
---
If and how precisely a vehicle steers, depends on numerous components. One crucial vehicle part for precise steering is the tie rod end. It ensures that the power is transferred from the tie rods to the steering knuckle during steering and that the wheels consequently follow the steering angle of the driver. This keeps the vehicle on track.  
Tie rod ends are durable components with a range of more than 100,000 kilometers. They are also typical wear parts that have to be replaced over time.
A characteristic defect at the tie rod end is a damaged rubber sleeve. The actual defect is often a consequential damage to the defective rubber sleeve: sand and water can enter through the defect.
As a result, the ball pin begins to rust. Sand and dust can also get between the ball pin and the plastic seat and grinds the plastic seat to a rough finish – leading to play between ball pin and plastic seat.
All this damages the tie rod end and affects the directional stability of the vehicle – and thus represents a real safety risk.
The following steps should be undertaken when carrying out this repair:
Step 1: Cleaning the steeling knuckle
Before the installation of the new tie rod end can begin, the contact surface of the steering knuckle on which the rubber rests must be cleaned. This is necessary so that the rubber on the steering knuckle can rotate freely.
Step 2: Lubricating the steering knuckle surface with silicone grease
The new All-in-one-kit reportedly helps workshops to save valuable time: The wheel bearing and wheel hub are pre-assembled in the MEYLE-ORIGINAL wheel bearing repair kit. This solution covers a global fleet of more than three million vehicles.
Step 3: Installing the tie rod end
Install the MEYLE-HD tie rod end and tighten the nut with 65 Nm. The nut must be tightened by hand until the ball pin is no longer to turn. The final torque is then tightened with a torque wrench. Do not use an impact wrench under any circumstances to tighten the tie rod end.
Step 4: Carrying out the wheel alignment
It is always necessary that a wheel alignment is carried out after the installation of the tie rod end in order to adapt the axle geometry of the vehicle to the manufacturer's specifications. Then the lock nut of the tie rod end is tightened with 55 Nm.
---
All steps can be seen in a
short video
tutorial on the YouTube channel MEYLE-TV.