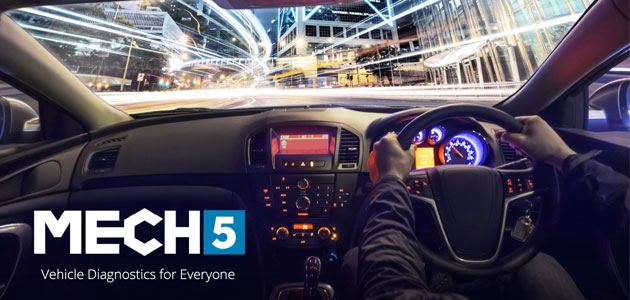 A campaign to raise £50,000 in 30 days and change the future of vehicle diagnostics has been launched by Buckinghamshire-based start-up Nebula Systems Ltd.
The company is looking for backers for its revolutionary new vehicle diagnostic system 'Mech5', which allows both professional and domestic users to carry out in-depth analysis of a vehicle's electronic systems using their smartphone, tablet or laptop like never before.
The product works via a small on-board diagnostics (OBD) device which plugs into the vehicle's diagnostic socket and connects securely to the cloud, allowing the user to access the wealth of information stored within the vehicle's computer systems wirelessly and from anywhere in the world.
Roman Di Lullo, Managing Director of Nebula Systems, said: "We're extremely proud of Mech5, it goes much further than any previous OBD products have done in the past. It really empowers users to find out for themselves what's wrong with their vehicle in a very simple and accessible way.
"For the first time ever any vehicle user, from car enthusiasts to professional mechanics, roadside recovery teams and independent garages, will be able to access an incredibly powerful system which allows them to carry out remote diagnostics on any electronic system within the vehicle, using an internet connection – whether they're standing next to the car or are on the other side of the world.
"I first came up with the concept for Mech5 five years ago, but the technology was not available then – it was not the right time.
"To see the product at this stage and to have a really passionate team working on it is fantastic and hopefully, with help from investors through Kickstarter, we can take this new technology and empower vehicle owners around the globe to access their vehicles' systems in a safe, secure and more innovative and economical way than ever before."
Nebula Systems' Kickstarter campaign to raise £50,000 towards the development of Mech5 launched on Tuesday May 20 runs for 30 days until Thursday June 19.
Preview the Mech5 Kickstarter campaign and watch the campaign video…