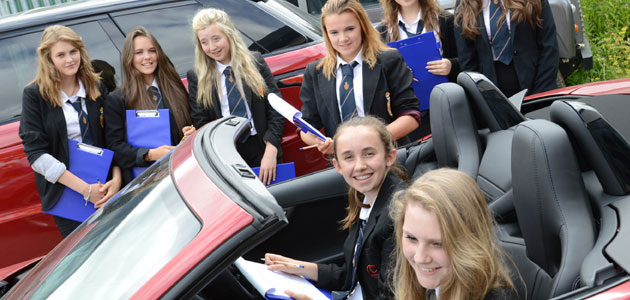 The Institute of the Motor Industry, (IMI), has launched three nationwide competitions designed to showcase different aspects of the retail motor industry to students.
The Literacy Competition is run in partnership with the Volkswagen Group Advanced Apprenticeship Programme and asks the students to write a magazine article titled "Why choose a career with Volkswagen Group". Students will need to research the different brands that make up the Volkswagen Group and explore the various job roles on offer before writing their final article. The literacy competition is open to secondary school students aged 14 – 16 years old; the prize will be confirmed at a later date.
The Business Competition is run in partnership with Jaguar Land Rover Academy and asks students to use their marketing knowledge to create a product launch for a new vehicle. This year the focus is on technology and all entries must be submitted electronically in the form of a film, website, social media campaign or augmented reality. Schools and colleges can enter this competition in either the 13 – 16 year old or 16 – 19 year old categories. The winning teams from each age group, and a teacher, will experience a day out at one of Jaguar Land Rover's centres featuring a tour of areas not normally seen by the public.
The Paint and Body Competition is run in partnership with Babcock and asks secondary school teams aged 14 – 16 to create a custom paint scheme for an existing car. Students will need to research the group of companies that Babcock offer apprenticeships for, select a make and model of vehicle and then design the artwork. The winning team will get a day at the Babcock training centre near Milton Keynes and will be able to spray their design onto their own remote controlled car, which they can take home with them.
IMI Careers Manager Emily Hakansson commented: "A key part of business success for any automotive company is to encourage the best and brightest people to join their business in a variety of roles. These new competitions help to achieve this aim by showcasing the industry to secondary school students who are in the process of choosing their career options. We hope the teams who are crowned national champions will go on to be leaders in our sector.
Apprenticeships are currently a hot topic in the UK, and IMI is working with Volkswagen Group, Babcock Training and Jaguar Land Rover, to promote them to a wider audience than ever before through these innovative and exciting competitions."
The competitions are based on the curriculum-led teaching resources that cover keys stage 3 & 4 maths, literacy, ICT and business studies. Full competition guides can be downloaded from http://www.autocity.org.uk/Competition and all entries must be submitted by30th May 2015. For more information please email Careers@theimi.org.uk.