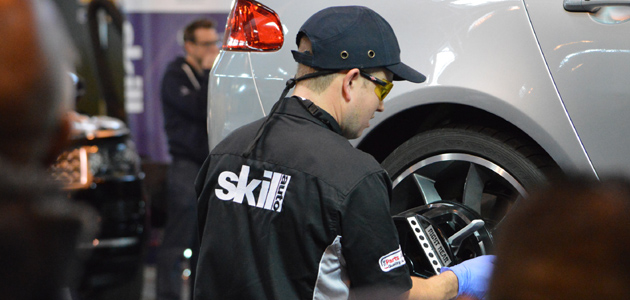 Seven Autobody and six Autopaint and Autotech candidates have been confirmed as the finalists in the SkillAuto competition, the Institute of the Motor Industry has revealed.
The UK's best young technicians will compete for gold at the UK Skills Show in November, with over 100,000 people expected to attend the event at the Birmingham NEC.
Competition tasks included preparing and painting panels, scratch repair and colour matching for Autopaint competitors; Autobody participants faced challenges, such as welding, metal finish repairs and plastic fill repairs.
Autotech tasks included a timing belt change on a Land Rover TD4 engine, a transmission reassembly, a detailed inspection of a Jaguar XJ and various fault diagnosis activities.
Steve Nash, the IMI's Chief Executive, said: "Congratulations to all of the SkillAuto competitors that have made it through to the upcoming finals.
"SkillAuto is a vital tool for placing the spotlight on the importance of skills in the motor industry. Many people are still unaware of the technical complexity of modern vehicles and the high level of skills required maintaining and repairing them.
"The young people that have reached the final represent the high calibre of apprentices the motor industry needs, and they are role models for future generations of automotive professionals."
To find out more about SkillAuto and career opportunities in the motor industry, please visit www.autocity.org.uk.
SkillAuto Finalists
Autobody
 •Matthew Bailey (RGM) Wales
•Jordan Thomas (TWK Thomas & Sons) Wales
•Carlo Cipriani (Arnold Clark) Scotland
•Lewis Lloyd (BP Rolls Group) Wales
•Andrew McDonald (P.J McLaughlin Auto Body) Northern Ireland
•Mark McCarron (Monaghan Brothers) Northern Ireland
•David Stewart (Attends River Park Training) Northern Ireland
Autopaint
 •Keiren Jones(Nationwide Crash Repair Centre – Ely) Wales
•James Grayson (S & G Coachworks) England
•Jack King (Nationwide Crash Repair Centre – Scunthorpe) England
•Anthony Miotti (J M Motors) England
•Martin Inglis (Kinghorn Body Shop) Scotland
•Leon Ivin (Magor Motors) Wales
Autotech
•Damien Robinson (Honda) England
•Elliott Byers (Subaru) Scotland
•Darrell Delaney (Kia) England
•Ryan Banks (Honda) England
•Michael Collins (Donnelly Brothers) Northern Ireland
•Turlough Lennon (Jaguar) England