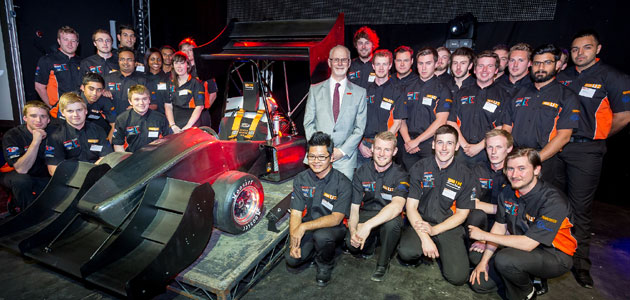 UH Racing, the University of Hertfordshire's Formula Student race team, is using all the benefits of Henkel's LOCTITE® brand of engineering adhesive products in its quest for glory. Already the most successful UK Formula Student team of all time, UH Racing, which is based at the University of Hertfordshire's School of Engineering & Technology in Hatfield, says the use of LOCTITE® for structural bonding provides a lightweight solution with uniform strength, two primary ingredients for success in any motor racing format.
Organised by the Institution of Mechanical Engineers, Formula Student dates back to 1998, since when it has gone from strength to strength. Today, there are nine affiliated Formula Student competitions around the world, while the annual UK event at Silverstone attracts over 100 teams, some 35 of which are British.
Over the years, UH Racing has produced 17 different combustion-powered cars, along with others that ran on alternative fuels, such as electricity and hydrogen.
"Our partners at Henkel have helped since day one," states Dr Howard Ash, Senior Lecturer at the University of Hertfordshire. "The whole Henkel team are very supportive; visiting the students at Hatfield and delivering presentations on the use of LOCTITE® products."
The cars, which can do 0-60 mph in less than four seconds, are described as 'non-professional weekend autocross or sprint racers'. Despite plenty of previous success, the 2014 car (UR17) from UH Racing saw the team take a different approach.
"This year we not only increased the size of the aerodynamics package, we also downsized to a single cylinder, 450cc engine [from four-cylinder, 599cc in 2013], which is less powerful but lighter," says Dr Ash. "However, one of the unforeseen factors this introduced was a modicum of vibration issues."
Despite the battle against vibration, at the UK leg of Formula Student 2014, UH Racing still managed to finish a very respectable 17th from over 100 teams. UH Racing also competed at Formula Student Germany 2014 in Hockenheim, although more problems and "bad luck" saw the team finish 68th, again from over 100 competitors.
"This year's results are not up to our usual standards, and it means we have now slipped to a rank of 29th out of 500 Formula Student teams worldwide, but the students have learnt plenty of useful things to take from the exercise."
The LOCTITE® products of Henkel, which is a platinum sponsor of UH Racing, are used in many applications on the car. For instance, LOCTITE® is used for bonding honeycomb panels into the steel space frame chassis upon which the driver's seat sits.
"Structural bonding with LOCTITE® provides a nice lightweight solution," says Dr Ash. "Furthermore, there are no fasteners, the joins are invisible, and the adhesive offers uniform strength as it can be applied around the entire perimeter of the parts."