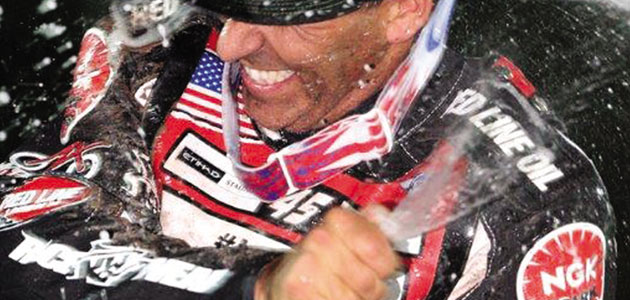 NGK-sponsored World Speedway champion Greg Hancock has put himself back in contention for this year's title after storming to victory at the at Mitas Slovenian Grand Prix.
The triple world champion scored 20 points out of a possible 21 after topping the rostrum ahead of Great Britain's world championship leader Tai Woffinden, and Danish internationals Peter Kildemand and fellow three-time champion Nicki Pedersen.
The American's victory at Krsko – his first of the season – took him up to second in the standings on 102 points, 25 short of leader Woffinden, who scored  18 points to move on to 127 overall.
Greg (45) said: "The only thing I could wish for right now is to be giving Tai a bit more of a run for his money. I had big hopes of retaining the title and doing it all again, but I missed out in a few crucial rounds, where it didn't go as well as I had hoped.
"Gold is what we are chasing, but it's going to be very, very tough. A lot of people would just take their hat off to Tai now and say 'thank you and congratulations.' But I'm an optimistic sort of guy. I won't give up until there is no chance. Right now, there is still a chance.
"He's a quick guy and you can see he's riding with a ton of confidence. It's hard to beat him. But I'm sure Tai doesn't take anything for granted. He's still working hard and knows there are three rounds left; anything can happen."
Next up is the TEGERA® Stockholm SGP, which takes place tomorrow at the Friends Arena – a venue built just yards from the Solna apartment where Hancock started his young family with wife Jennie.
And Greg is determined to deliver what would be his first ever victory in his second homeland.
He said: "I have never won a round in Sweden and I have always wanted to. It's a great country and I have a lot of history, family and sponsors there. There are a lot of great people there, who have taken me to another level going back over the last 10 or 15 years. I owe those guys a lot and nothing would feel better than to stand on top of the podium at the Friends Arena."
Fellow NGK-sponsored rider Chris Holder is currently in sixth place in the championship on 78 points.