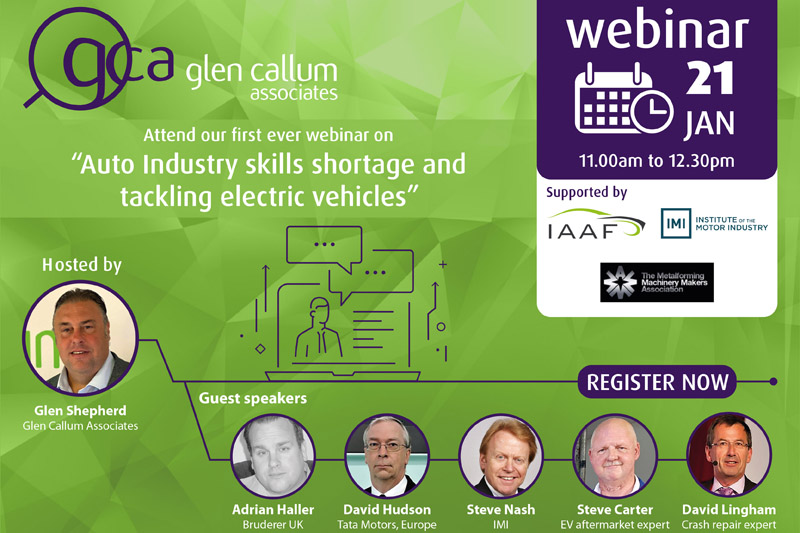 ---
Glen Callum Associates (GCA) has announced it will be hosting an exclusive webinar to kick start 2021 called "Auto industry skills shortage & tackling electric vehicles (EV)".
---
The recruiter has brought together an expert panel comprising businesses and associations from engineering, crash repair, electromechanical, and automotive sectors to fully examine the industry's readiness for an electric vehicle future.
Taking place on 21 January 2021 at 11am – 12.30pm, the panel of speakers will include: Adrian Haller, Managing Director of Bruderer UK; David Hudson, Leading Advanced ICE and EV Propulsion Technology Development for Tata Motors in Europe; Steve Carter, Automotive Aftermarket EV Specialist; Steve Nash CEO of IMI; and Crash Repair and Business Strategist, David Lingham.
The webinar has been designed for all sectors in the automotive aftermarket and will examine every area of the electric vehicle, looking at whether we, as an industry, are really geared up for this technology and how we can invest in its future.
It will also look at the issues surrounding crash repair and electric vehicles and the training required to provide effective aftermarket servicing and repair.
Supported by trade associations IAAF, IMI and MMMA, the webinar will challenge perceptions and pose the question "is it easier to train an electromechanical engineer or vehicle technician to work on electric vehicles?" and what can be done to address the skills gap.
The debate will also explore the future of the distribution aftermarket and what new entrants we are expected to see in the market.
Glen Shepherd, GCA Managing Director, said: "As a specialist recruiter, we find ourselves in a position of being ahead of future trends, working with companies on their long-term strategies. The trend towards investment in electrical expertise within the automotive market has grown considerably and we are seeing a greater crossover than ever before, so this webinar will help companies position themselves for the future."
---
To register for the webinar, click
here
.