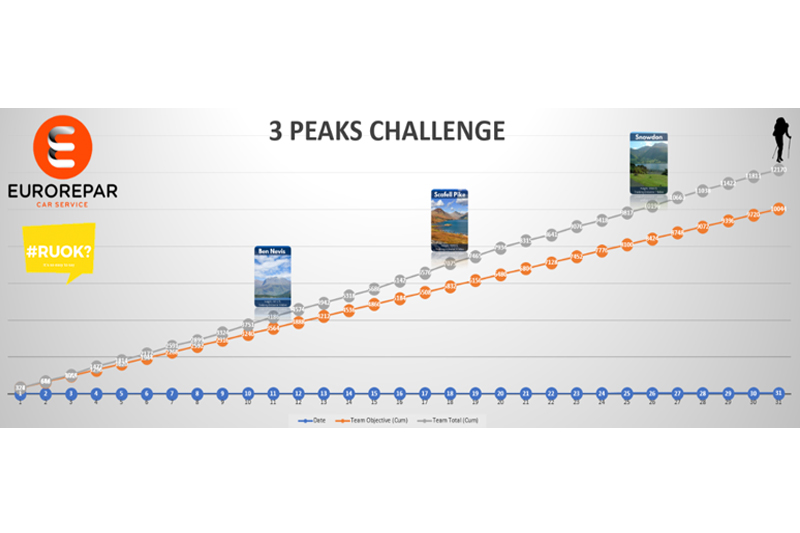 ---
A team of nine staff from Eurorepar Car Service has helped raise over £15,000 for mental health charity CALM

as part of PSA Group's RUOK? initiative.
---
Suicide is said to be the single biggest killer of men under 45 in the UK. Employees of PSA Group, the parent company of vehicle brands, Citroen, DS Automobiles, Eurorepar, Free2Move, Peugeot and Vauxhall, decided to come together to help change this through the RUOK? initiative.
As part of the initiative, staff were encouraged to take part in a physical challenge, both individually and within their departmental teams.
The goals of the campaign were to raise money for CALM, improve the wellbeing of employees via physical exercise and camaraderie, and raise awareness for the RUOK? campaign and issues surrounding mental health.
The nine members of Eurorepar Car Service rose to the challenge, running, walking and stair-climbing their way to 121,700ft of elevation gain in October – an average of 13,533ft per person.
Darren Pengelly, Head of Marketing & Commercial Actions, Eurorepar Car Service, said: "The last few years have seen a much-needed increase in awareness of mental health issues, but there is still more that can be done. We all know that 2020 has been a particularly difficult year, with many people experiencing mental health difficulties for the first time.
"The opportunity to help raise awareness and funds was one that the Eurorepar Car Service team was never going to turn down. There are a few sore legs in the group this week, but we're delighted to have helped raise some money for such a worthy cause."
---