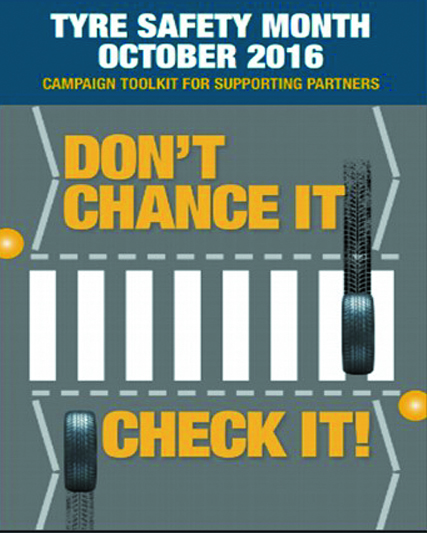 TyreSafe unveils materials for Tyre Safety Month 2016
TyreSafe, the UK's not-for-profit tyre safety awareness organisation, has today unveiled the dedicated materials and resources for October 2016's Tyre Safety Month. This year's campaign theme is Don't chance it, Check it to encourage motorists to #CheckTyres on a regular basis to reduce the risks of an incident while on the roads.
In addition to posters, leaflets, online banners and an animation, TyreSafe has also developed a 360-degree film and app for its broad range of supporters. The film dramatically depicts the difference in braking distances between a car equipped with new tyres and another with tread depth below the legal limit of 1.6mm in wet conditions. While watching on their smartphone, viewers can turn their heads to see all the action in front, to the side, above or even behind them, giving an immersive – and literally impactful – experience.
The TyreSafe 360 app can be downloaded from the Apple Store or via Google Play.
Stuart Jackson, Chairman, TyreSafe, said: "The n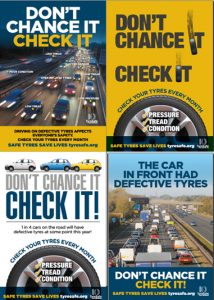 eed for the annual Tyre Safety Month campaign in October has once again been underlined by the evidence. The second phase of the survey of tyre tread depth at the point of replacement in partnership with Highways England has confirmed the findings of the first phase, in that more than one-in-four British motorists are replacing their tyres when they were already illegal. In 2016, that equates to potentially over 10 million illegal and dangerous tyres on Britain's roads.
"In combination with the number of casualties resulting from tyre-related incidents, the MoT failure rate due to defective tyres, and surveys of British motorists' awareness of tyre safety issues, there is unquestionable evidence that attitudes need to change. TyreSafe's message is clear: when it comes to reducing the risk of a tyre-related incident – Don't Chance It, Check It."
For more information on the campaign and TyreSafe click
here
.