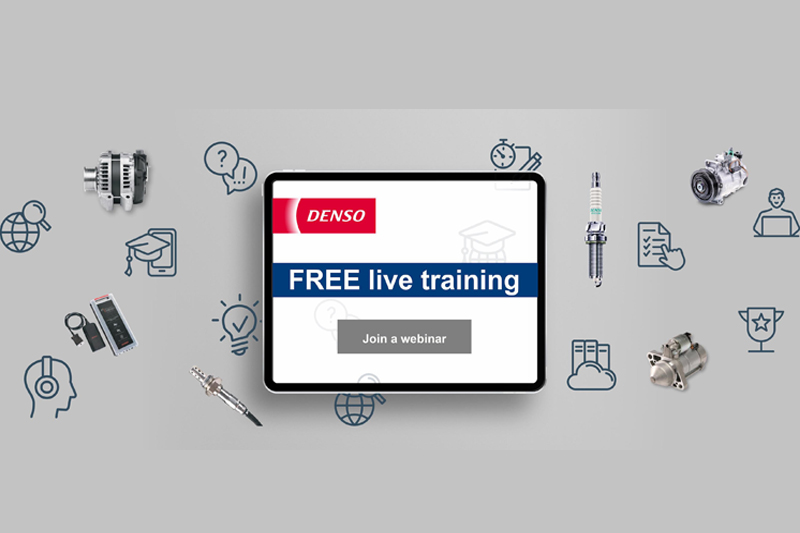 ---
Introduced in response to the coronavirus crisis to provide technicians with ongoing training during the restrictions imposed by the country's lockdown measures, DENSO Aftermarket's webinar programme has been extended.
---
Alongside the original air conditioning and thermal management modules, which will remain, new product categories will join them.
DENSO Europe, Pan European Strategic Marketing Manager, Fatiha Laauich, explained: "Due to their combination of tips and advice, as well as guidance concerning common faults and reasons for failure, the first series of webinars were not only well received by technicians, but their timing couldn't have been better with the unseasonably good weather and the easing of the lockdown restrictions meaning motorists started to return to the road.
"The additional modules, which include first oxygen sensors and then spark plugs, are both highly relevant subjects that due to the vital role they play in ensuring vehicle emissions comply with Government requirements and MoT certification, as well to provide the optimum in terms of fuel economy for motorists, made them the obvious choice.
"They will again be presented by our highly respected European specialist team, who have enormous technical knowledge and experience. They are very comfortable with technical presentations, as has been evident with the popularity of the air conditioning and thermal management webinars, they can engage technicians by providing a combination of best practice principles and specialist mechanical knowhow, presented in a natural and relatable style.
"Ultimately though, the purpose behind the webinar programme is to inform and educate the audience to enable technicians and the workshops they represent, to improve the service they provide for their customers and help to assure the long term future of their businesses. So, we positively encourage technicians to sign up to the webinar programme and book a slot through the training calendar."
---
To book a slot, click
here
.