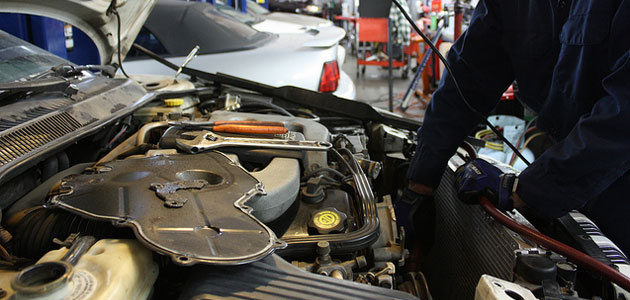 In some recent research, WhoCanFixMyCar.com has looked into just how far drivers will travel for servicing and repair. There's often a preconception within the industry that drivers aren't prepared to travel more than a few streets for their service or repair work, and that it's simply not worth looking for customers outside your immediate neighbourhood. The data collected suggests that this is not the case. While it's most common for drivers to travel 2-3 miles, plenty will travel much further, even in towns and cities – with an overall average of 5.7 miles – when there's reason to do so, such as:
– Higher-value, or specialist repair work attracts up to 30% longer journey time
– Garages with great feedback can generate a journey time over 50% longer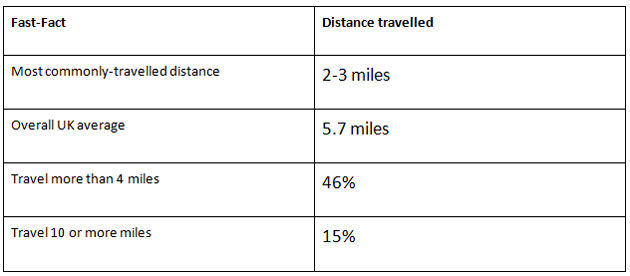 The data suggests that typically, drivers travel 2-3 miles – but that's not the whole story because the overall UK average is a much higher number than you would expect. While it's clear that the typical distance travelled is lower, at 2-3 miles, even that figure is higher than garage owners would imagine. It's also clear that there are plenty of drivers who are prepared to travel much, much further to keep their car in top condition.
The implications are obvious: a garage's pool of customers is much larger than the business may have previously imagined! But under what circumstances will drivers go the extra mile (or two)?
WhoCanFixMyCar has found that drivers travel up to 30% further for specialist or costly work.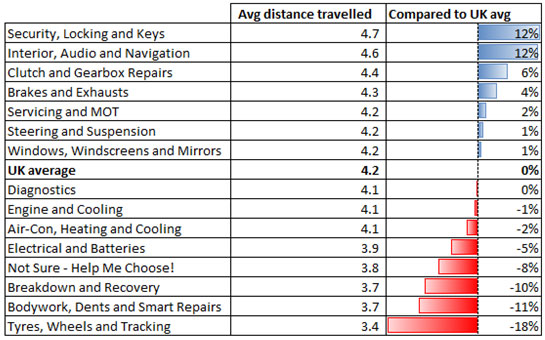 The date above looks at average travel time by repair type and, to make the comparison clearer, it only looks at journeys up to a maximum of 10 miles.
It's clear that when the job requires specialist attention (such as a complex car audio install) or is more costly (such as a replacement clutch) drivers are prepared to travel that bit further – either to ensure great service or, possibly, on the premise of a cost saving.
However, when it comes to 'commoditised' work, such as new tyres, car owners just aren't prepared to invest the drivetime on something that could be resolved locally.
The learning for garages: if you have something special to offer, you should find ways to spread the word beyond your immediate neighbourhood.
The data recorded also suggests that drivers will travel over 50% further to visit a garage with great reviews.
A garage with a low review score or no reviews (the left-hand side of the graph), attracts customers from, on average, less than 4 miles away. However a top performer – i.e. one with a flawless 5.0/5.0 rating – will have their customers travel over 6 miles on average. That's over 50% further afield.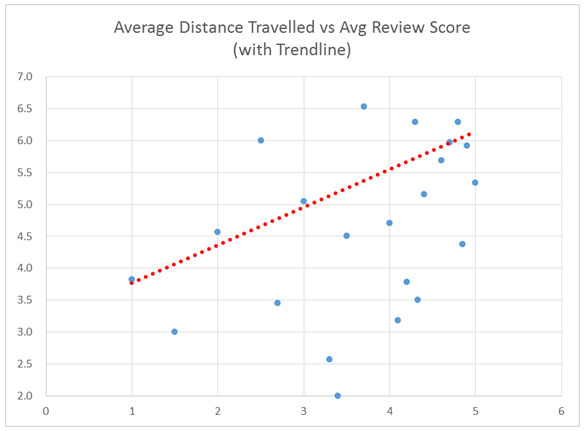 WhoCanFixMyCar.com connects drivers and garages across the UK. With over 10,000 drivers using the website every month, and almost 7,000 registered garages, including independent repairers, mobile mechanics and main dealers, this gives the company a unique birds-eye view on the market as a whole.