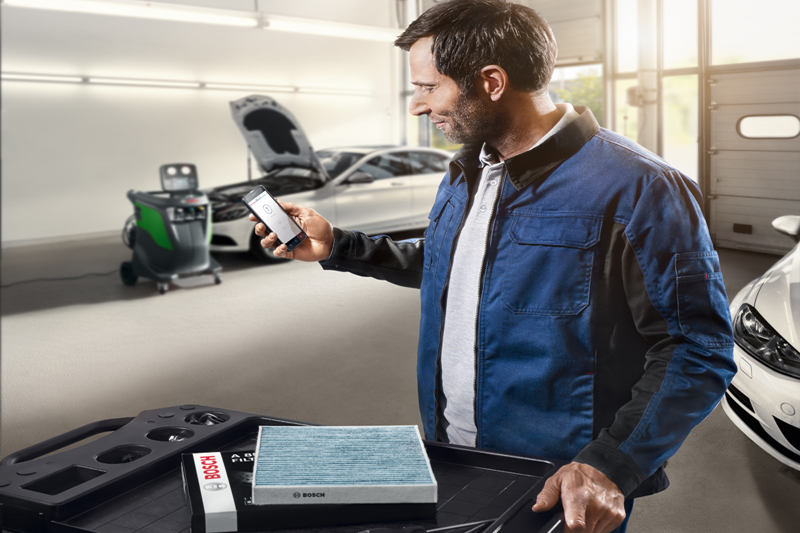 ---
From the entry-level ACS 561 to the premium ACS 863, Bosch promises to offer an air conditioning servicing machine suitable for every independent workshop.
---
According to a 2017 GiPA report, nearly 90% of cars in the UK now have A/C, but only 56% of independent garages have an A/C servicing machine. This reportedly means that those who are investing in the right training and equipment are said to be making very healthy profits.
Bosch's new Andiamo machines boast a 99% refrigerant recovery rate, when compared to 90-95% on other units. Not only are they reportedly more environmentally-friendly, with less harmful gas escaping into the atmosphere, they are said to deliver significant cost saving benefits as well.
Based on a seven-year lifespan and five services per week for 50 weeks a year, the Bosch Andiamo machine can save a workshop in the region of nine bottles of R1234yf refrigerant over other machines. Bosch also states it can offer free database updates over the product lifetime, which will reportedly deliver a further saving over other Bosch ACS machines.
The new ACS 863, ACS 763 and ACS 753 units all feature a swiveling control panel, are compatible with hybrid and electric vehicles, and have the deep recovery function for full evacuation of the vehicle A/C system. In a bid to deliver increased convenience and further reduced repair times, the ACS 863, ACS 763 and ACS 753 feature an integrated leak test for inert gas and can be controlled remotely via the Bosch smartphone app.
Kevin Higgs, Product specialist,Europe North, said: "Our new Andiamo ACS machines help independent workshops to maximise profits by saving both time and money, and they're more environmentally friendly too. The 99% refrigerant recovery rate raises the bar in aftermarket A/C servicing and technicians will love the smartphone features which enable you to query the current work status at any time and receive a push notification when the maintenance function is complete.
"A/C is almost ubiquitous already and with electric and hybrid vehicles using it to heat and cool components its future is secure. Our industry benchmark training courses ensure that technicians develop the necessary skills, while our Bosch ACS machines make A/C servicing simple, safe and efficient. There's really no reason why you should be letting customers go elsewhere when you can do it yourself, provide great customer service and generate additional revenue."
To view the full range of Bosch A/C machines, click here.
Please note: A/C servicing requires specific training and must be performed with great care. Bosch offers A/C training courses, notably Air Refrigerant Gas Handling (AC1RHA) and Conditioning Systems Diagnosis (VSB26).
Bosch Training Courses
AC1RHA : Automotive Air Conditioning Refrigerant Handling Certification (L3QCF)
This 1 day course provides the necessary DEFRA Approved qualification, upon passing the online test and practical assessment, included in the training.
 Course content:
Essential Training to cover current legislation and procedures
Candidates who pass the online and practical assessments, will be certified by IMI Awards for an unlimited period.
Training: VSB26 – Automotive Air Conditioning Systems Diagnosis
This course provides the candidate with an overview of Air Conditioning systems from a technical and diagnostic perspective.
Content includes:
Introduction to air conditioning
Refrigeration systems TXV and FOT
Air conditioning system components
Service equipment and procedures
Safe handling of refrigerant and environmental concerns
Mandatory legislation, health and safety procedures.
Please note: Air conditioning technician assessment for certification is conducted separately from this course and is granted to candidates who successfully complete the Bosch assessments AC1RHA or ATA Refrigerant Handler.
---