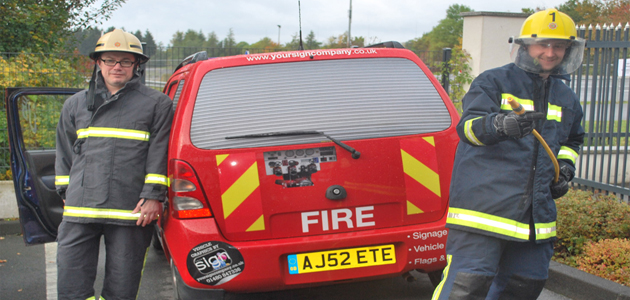 Cars sold at auction after completing a 1000-mile rally raised over £17,000 for the motoring charity BEN.
In Teutonic spirit, the annual Bangers4BEN Rally comprised of 27 cars driven by teams in extreme fancy dress, as they attempted the trip from Porsche Cars GB Offices in Reading to the Porsche Museum in Stuttgart.
The auction allowed members of public to get their hands on some of the cars taking on the challenge. Of those include The Suzuki Wagon Fire Engine from Marshall; Peterborough (above) won 'Best Themed Car' ahead of The BEN Bull from David Graham Vehicle Repairs in Falkirk and Austin Powers from Marshall Motor Group.
The AA provided support, in particular to two vehicles, which needed attention before entering the Eurotunnel. One team suffered two tyre failures and a broken wheel, but were able to continue after a quick turnaround.
Bangers4BEN is held in conjunction with Car Dealer Magazine – James Batchelor, Editor, said: "This was the fifth year of the Bangers4BEN Rally and in terms of both sheer fun and fundraising; it was one of the best yet. Overall, we managed to raise a staggering £17,532.18 for the BEN charity fund – a brilliant effort by everyone involved."