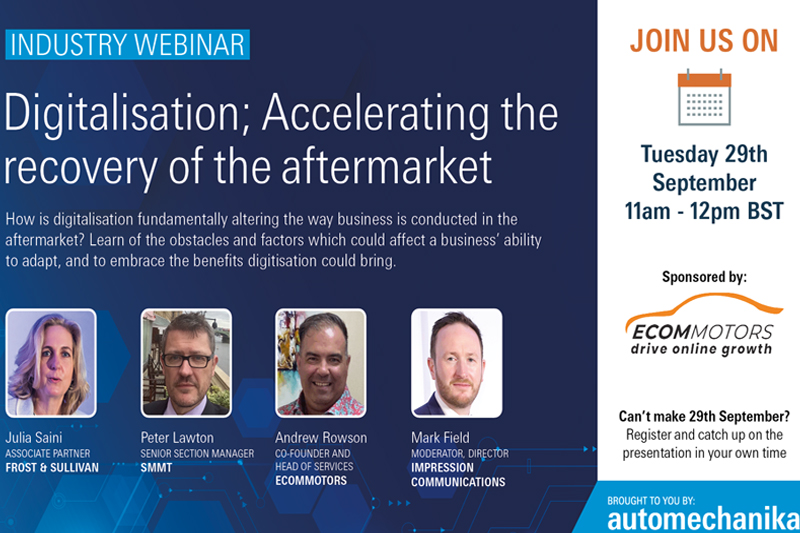 ---
Automechanika Birmingham has announced the latest addition to the panel of its Automotive Aftermarket Webinar Series.
---
Andrew Rowson, Co-founder and Head of Services at ecommotors will join the next free-to-attend session of 'Digitalisation; Accelerating the recovery of the aftermarket,' which will take place on 29 September.
Following on from the success of the first session, the next live discussion, sponsored by ecommotors, will begin at 11am, with an industry panel providing a 60-minute, view on how digitalisation is changing the way business is conducted in the aftermarket. The panel will discuss the value of digitalisation and key takeaways for businesses, as well as taking any questions.
Andrew started his retail journey at the age of 17, working at a FTSE 100 UK food retailer. In 2003 he joined the family automotive business, which was doing £100K annually and reportedly grew it into a £10m multichannel organisation within 10 years.
The organisation was said to have became a force within the multichannel community and achieved several accolades, including the largest Parts and Accessories seller and eBay Top Seller UK in 2009.
Seeing the opportunity to help other sellers and brands to sell on multichannel, Andrew established E-Motive in 2013, a managed services provider. As well as this, to meet the increasing demand from the automotive aftermarket around digitalisation and multichannel, Andrew also co-founded ecommotors, which combines technology systems and services to offer a full, end-to-end solution dedicated to this category.
Andrew will join Dr Julia Saini on the webinar, Associate Partner at Frost and Sullivan and an expert on the topic of Digitalisation, who will explore the key trends driving the recovery in the aftermarket. Joining Julia will be Peter Lawton, Senior Section Manager at SMMT, who will share his views, which have been shaped by the experiences of suppliers, motor factors and retailers throughout the aftermarket. This will aim to provide a balanced discussion looking at the opportunities and challenges when adopting digital channels in the aftermarket.
Whether it's informing customers, driving sales, delivering operations or a particular service, digitalisation is said to be key to helping companies adapt and communicate with the supply chain through to the end consumer more efficiently. The session will aim to deliver an insightful and practical conversation with experts and industry practitioners.
The webinar sessions have been structured to cover both the strategic outlook for the automotive industry and the on-the-ground, real-world experiences of businesses in the aftermarket supply chain on a daily basis.
To sign up for the free-to attend session, register at www.automechanika-birmingham.com/webinar. If you have a question for the panellists, email digital@uk.messefrankfurt.com.
---
For those who were unable to attend the last webinar, the live session has been recorded and is available
here
.