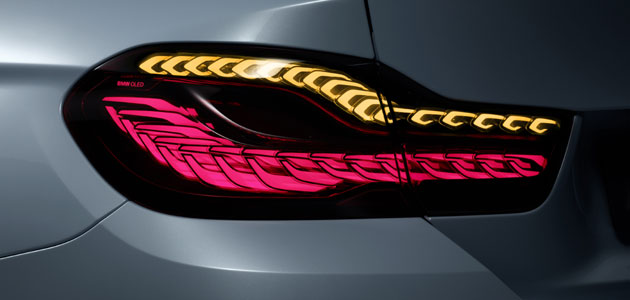 Photo courtesy of BMW
The new show car from BMW is equipped with state-of-the-art Osram lighting both at the front and at the back of the vehicle. BMW's familiar twin round headlights now appear in a new light thanks to laser technology from Osram. But it is the tail lights that arouse most interest. These feature organic light emitting diodes (OLED) which generate light in wafer-thin layers of organic materials.
OLEDs are area light sources, in contrast to LEDs, which are point light sources. The lights can be made in any shape, giving designers the freedom to create uniformly lit panels that clearly differentiate the particular marque. The result is a clearly defined pattern of light that stands out from its surroundings, offering high brilliance which is reinforced by the fan-like arrangement of the individual OLED elements. The thin layers of an OLED contain organic materials. They are enclosed by flat electrodes which serve as the electrical contacts. When power is supplied, photons are produced in the layers, causing the diode to emit light. The OLEDs in the BMW show car meet the light values required by the relevant ECE and SAE standards.
The free-form nature and advanced features of OLEDs, such as flexibility, mean that designers are no longer restricted by the light source. For example, 3D effects can be created by segmentation, in other words the close arrangement of switchable light surfaces next to one another. The possibility of controlling individual light modules separately opens up even more design options such as dynamic functionality. The small mounting depth also plays a role. In the BMW M4 Concept Iconic Lights the arrangement of the light-emitting surfaces produces a sculptural effect and takes up very little space. The OLED segments on the BMW M4 show car can emit light of different colours depending on whether the car is driving normally, stopping or turning. What's more, energy consumption is very low as OLEDs need very little current.
"The show car is an important milestone for our OLED strategy. As a leading supplier Osram wants to have a presence on the road with a series OLED product from 2016 onward", said Marc Lünnemann, the man responsible at Osram for OLED business.