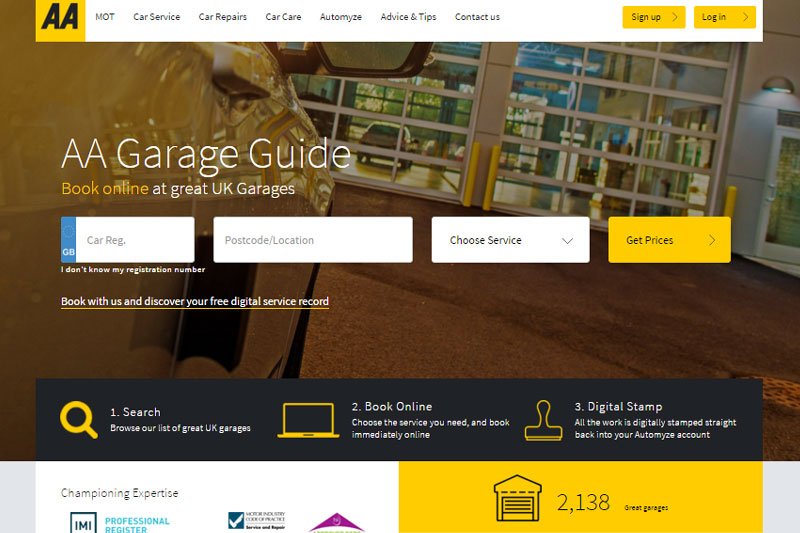 With a growing number of motorists searching online for car maintenance services, the AA has responded with the launch of AA Garage Guide.
The new online search and booking tool is designed to help motorists find the best independent garages in the UK. Its uniqueness comes from the fact that it ranks garages by quality and standards – not price.
The launch comes as a direct response to research, which according to the AA shows that nine in ten members consider trust and reliability to be more important than price when choosing a garage.
No subscription or listing fee is required to be included on the AA Garage Guide but all garages must be verified first. The process involves checking a company's information and trading history, cross-referencing any industry schemes and bodies it is affiliated with or subscribed to and checking its reputation online. At that point, the listing can be activated.
Once listed on AA Garage Guide, accepted independent garages simply pay a low flat fee per accepted booking. Importantly, they're able to select the exact type of work they want, rather than dealing with enquiries they have no interest in. Garages without their own online booking facility can place the free Booking Widget provided on their websites.
As well as helping garages to win new business, the guide also helps them retain customers: once a customer has booked at a particular garage, the AA Garage Guide will always refer them back there as the first choice for their next booking or when advisory work on a customer's record becomes due.
Alongside AA Garage Guide, the AA app and website are being enhanced to enable motorists to manage all aspects of their vehicle ownership — from tax, MOT and insurance documents to vehicle servicing and repair service records — in a secure, cloud-based environment.
Lucy Burnford, Co-Founder of AA Garage Guide, comments: "AA Garage Guide hosts independent garages with the focus on quality and standards rather than price. The platform is something we feel will really appeal to; and benefit, both the industry and the millions of UK motorists."
Edmund King, AA President, adds: "Nine out of ten (88%) of our members tell us that trust and reliability are more important than price when choosing a garage and it was very much with this in mind that we created AA Garage Guide.
"The goal of this powerful new search tool is twofold: to deliver more custom to high quality dealerships and independent garages, and to provide a premium experience to our members. The AA Garage Guide is a unique online system where car owners in search of quality service can effortlessly search for, and book online, the very best dealers and garages."