Simon Hoar from MGRS in High Wycombe puts the booster pack through its paces
Dead batteries are the bane of our customer's lives. How many of you have had to make a trip out of the workshop to jump-start a car whose battery was drained by the interior lights being left on all night? What about the nightmare scenario of a customer's battery dying while in your workshop?
I'll be honest and say that I've always been one who has opted for the traditional route of car-to-car jump-starting by way of kicking a vehicle into life and had not previously come across battery boosting technology prior to this product test. I'm glad that I gave it a try!
The MINI 12V 440CA Booster Pack, from Ceteor, is the latest addition to the company's family of SOS battery boosters – aptly named because of their ability to save motorists from the gloomiest of battery-related situations.
Excellent size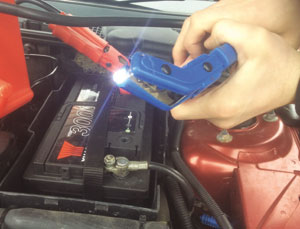 The 12V option is more than ample for the types of vehicle we're servicing and is suitable for both petrol and diesel engines. The unit is an excellent size that can be tucked away neatly in the workshop or, if you're a mobile operator, won't take up too much space in your vehicle. Despite its stature it is clearly well made and has already withstood a couple of bangs on the head since we acquired it, without any signs of damage.
For experienced mechanics, the process of hooking up the unit shouldn't take too much working out, you simply need to ensure the ignition is switched off and then find the positive and negative (earth) battery terminals on your stricken vehicle.
Colour coded clamps (red for positive and blue for negative) make it easy to identify the right terminal connections and, once fitted, it's then a case of starting the vehicle's engine and you're away. A few pumps on the accelerator pedal helps the battery charge faster and an illuminated voltmeter on the unit allows you to monitor alternator voltage.
We're into double figures in terms of the number of different vehicles that we've started with the booster now and on every occasion it has passed the test. The suppliers say that the use of AGM batteries to deliver high 'cranking' amps, as well as a copper bridge fitted to the clamp jaws, are the main reasons for such a consistent power surge. I'm no product technical expert, but whatever is utilised in the unit, it is having the desired result.
I also like the fact there is a torch/light button on the negative/blue clamp, designed to aid users in dark or dingy conditions. An in-car charger is another handy addition and it's reassuring to know that (when used correctly) the unit won't do any damage to the increasingly precious electronic components that vehicles utilise. 
'Must-have' product
There aren't many workshop units that can be described as 'must-have', mainly because of the variety of servicing tasks that UK garages will undertake. I'm now convinced, however, that a battery booster has to fall into that category as it is the type of solution that a workshop will need to turn to time and time again.
If you're in the market for a new unit, or have only ever used traditional methods of jump-starting, then I'd highly recommend that you take a look at the SOS booster range.