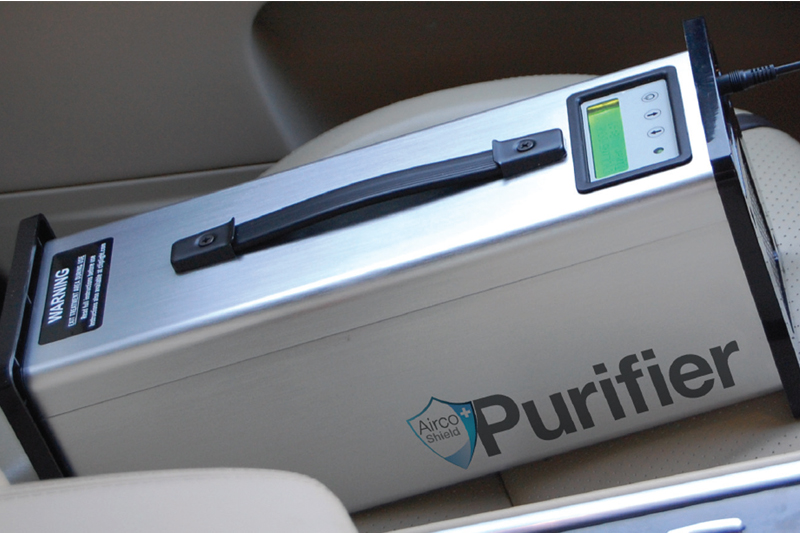 ---
Primalec, the expert air conditioning supplier, is offering you the chance to get your hands on an air purifying prize package that is ideal for ensuring your customers' vehicles are left perfectly sanitised.
---
Primalec has been providing vehicle odour control and sanitising solutions since 2003. The company's Purifier ozone generator was launched in 2013 to provide an air purifying solution without the need for expensive chemical consumables.
Airco Shield Purifier can rid vehicle cabins of bad smells and germs from the air and all surfaces including the A/C evaporator chamber behind the dashboard (where germs often breed), the air channels, upholstery, carpets, seats, and even hard surfaces. The average treatment time is about 30 minutes, unattended, and is the ideal sanitising treatment before handing back the serviced or valeted vehicle to the customer.
Purifier creates ozone (O3) naturally from oxygen in the air, using a special wavelength of germicidal shortwave ultraviolet light.
Ozone is the world's most powerful disinfectant gas. It is proven to destroy viruses, bacteria, moulds and microorganisms, the bad smells caused by those germs, as well as all the odours that build up in cars and commercial vehicles from tobacco smoke, take-away food and drink, pets and more.
As a gas, ozone has a penetrating capacity that liquids and chemicals don't have. It goes everywhere the air circulates and leaves no residue.
Ozone is also very unstable, which is good because once its sanitising work within the closed vehicle is done, it quickly and safely breaks down in minutes back into oxygen (O2) on exposure to the air when the doors are re-opened. Purifier is designed specifically for vehicle cabins, so it will not create excess amounts of ozone that could be harmful to the operator.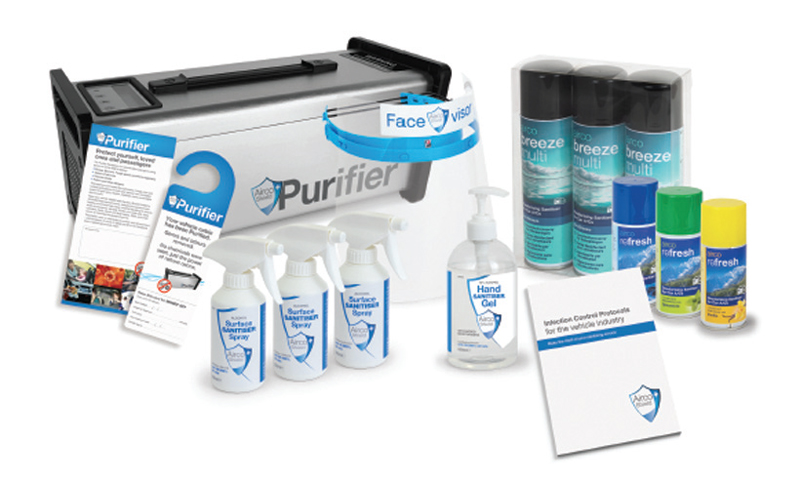 What can you win?
The prize package is worth almost £300 and includes:
The original Airco Shield Purifier ozone generating machine for a complete and thorough chemical-free purification
Consumer sales flyers to encourage customer take up
'Your vehicle has been Purified' mirror tags to confirm the purification has been done
A 500ml Airco Shield Hand Sanitiser made from cosmetic grade ethanol, and three 250ml ethyl alcohol Surface Sanitiser sprays for door handles and other hard surfaces
A three-can pack of Airco Breeze Multi sprays with a 40cm application pipe to reach down the air channels into the evaporator chamber where germs often breed (each can will last for two to three vehicles)
Three Airco Refresh total release sprays – place in the vehicle, release, and close all doors and windows
An adjustable face shield with replaceable visor
12-page infection control protocols explanatory booklet with useful tips
How do you enter?
To be in with a chance of winning this great prize, all you need to do is answer the following question.
Deadline for entries is 10/09/2021.
This competition is run in association with Primalec and open to trade only.
Terms & Conditions apply. 
Privacy Policy