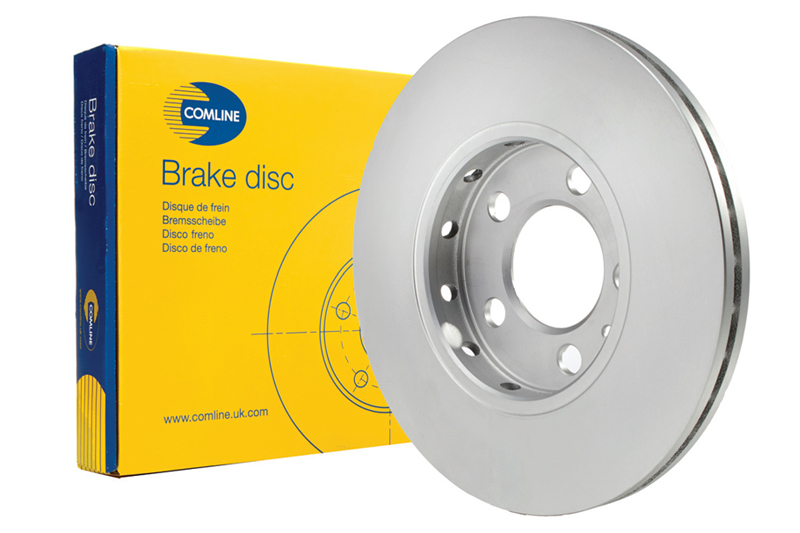 It's all in the coating
Comline introduced its range of coated brake discs back in 2016, proudly announcing that, every new-to-range disc would benefit from this extra layer of protection. Today, 80% of Comline's brake disc range is coated, a feature that delivers benefits to both the technician and motorist alike. But, what makes Comline's coating different and why should it be favoured over more traditional painted options? We talk to Dr Keith to learn more…
Covering all angles
First and foremost, Comline's specialised coating is water-based as opposed to oil-based and, as such, it can be applied to the entire disc and not to just the hub and outer disc edge.
This is significant for two reasons. The first reason benefits the technician. Given the nature of the water-based coating a Comline coated disc can be fitted 'straight out of the box' without the need for any time-consuming degreasing. This may seem counterintuitive as many would assume all protective substances would need to be removed from the friction surface prior to fitment. However, thanks to its properties, Comline's coating is removed from the friction surface with the first few applications of the brakes. This process has no impact on performance meaning a Comline coated disc delivers immediate, reliable braking.
Secondly, our unique formulation, which is applied to the entire brake disc, has been proven to offer far superior levels of protection from unsightly corrosion vs traditional oil-derived painted options. An essential feature for owners of vehicles fitted with alloy wheels where the presence of a rusty disc can negatively impact the appearance of the car. Rigorously salt-spray tested for over 220 hours, Comline coated discs remain pristine mile after mile.
New to range
Comline has recently strengthened its all makes, coated brake disc portfolio by adding a raft of new references. All in stock and available for immediate delivery, the latest list of newcomers caters for a variety of makes and models, and includes notable introductions serving some of today's most popular vehicles. This includes:
ADC2880V and ADC2881 serving to the segment-leading Ford Fiesta (2017-onwards); ADC2930V and ADC2933V catering for the high-end Jaguar F-Pace (2016-onwards), XE (2015-onwards) and XF (2015-onwards); ADC2981 designed for the Honda HR-V (2015-onwards) and ADC2983 which applies to both the Hyundai Tucson (2015-onwards) and the Kia Sportage (2015-onwards).
COMPETITION!
For a chance to win one of five Comline body warmers, please answer the following question:
Comline offers a vast range of brake discs, but what percentage of its range is coated?