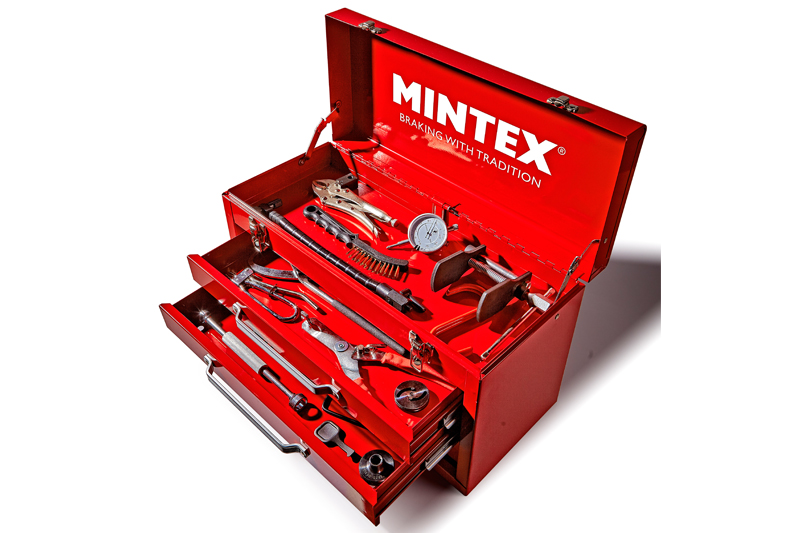 ---
Mintex is giving readers the chance to win a branded toolbox, complete with a wide range of tools to assist with all things brakes.
---
For technicians, special tools are a necessity for many jobs from both a best practice and health and safety perspective. However, they also ensure garages complete jobs quickly and efficiently, which in turn can help increase profitability.
With this in mind, Mintex offers a range of brake specific tools, all specially designed to provide significant benefits with the quick, safe and simple replacement of today's braking components.
What can you win?
The components of this prize make a great addition to any garage, with the high-quality metal toolbox providing the ideal home for any technician's tools. With the toolbox, the winner will receive a number of goodies for their workshop, including caliper hooks, a DTI gauge, a drum service kit and 10 pairs of Mintex work gloves. In addition, a Mintex brake fluid tester, worth over £150, will be included in the prize package.
The brake fluid tester provides a quick and accurate check for contamination in the brake fluid. Contamination occurs when the fluid absorbs moisture; leading to a lowering of the brake fluid boiling point, resulting in vapour lock and in turn the possibility of complete brake failure. This simple test can save valuable time while offering a supplementary brake servicing business – an extra string to a garage's bow.
The tools offer varying advantages to effectively aid the technician when completing jobs. The DTI gauge, for example, checks the run out on a brake disc, ensuring the customer doesn't come back complaining of brake noise or judder.
---
How do you enter?
To be in with a chance of winning, all you have to do is answer the following question:
Deadline for entries is 10/03/2019.
This competition is run in association with Mintex and open to trade only. 
Terms & Conditions apply. 
Privacy Policy