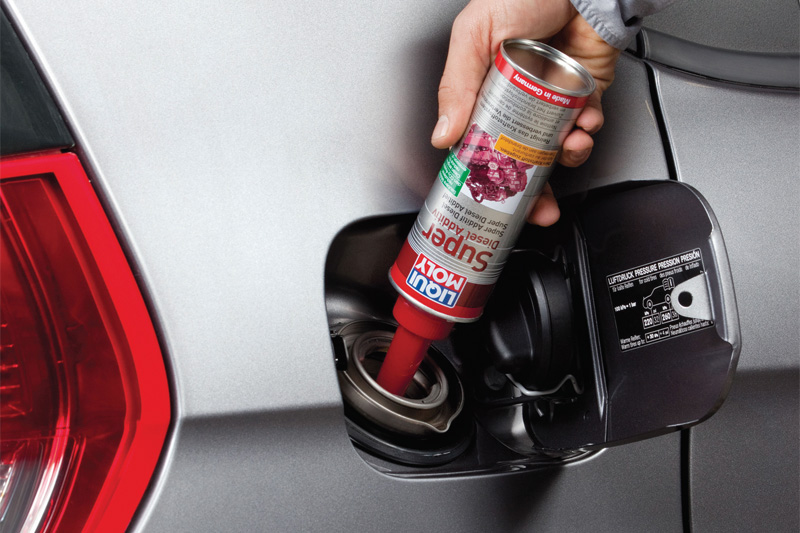 ---
LIQUI MOLY is providing one lucky reader with two boxes of Super Diesel Additive, containing 40 cans and worth £320.
---
It is the fate of every combustion engine: as soon as it is running, combustion deposits are created and get stuck on the inside of the engine. This leads to the engine gradually losing performance, consuming more, and the risk of a breakdown increasing. The Super Diesel Additive by oil and additive specialist LIQUI MOLY is said to be able to put a stop to this and restore the original performance of the engine.
"The injectors are a critical component," explained David Kaiser, Head of Research and Development at LIQUI MOLY. "In the case of injectors, the diesel fuel is sprayed into the combustion chamber as a fine mist. If encrustations form on the tiny openings of the injectors, then the fuel is no longer as finely atomised. It therefore does not combust as thoroughly.
"The result is that the engine performance level drops, fuel consumption rises, and the exhaust gas values become worse. Because this is a creeping process, the driver often doesn't even notice it happening.
"Furthermore, injectors are high-precision, sensitive components that have to endure pressures of several thousand bars and carry out hundreds of precisely dosed individual injections per second – combustion deposits clog it up and ensure their failure."
Money spent on repair can be saved if every 1,250 miles a can of Super Diesel Additive is added to the tank. The ingredient is said to dissolve the encrustations on the injectors, thereby improving the spray pattern. This means the engine should revert back to its original performance and fuel economy.
Alongside cleaning, Super Diesel Additive also offers two further advantages: it increases the cetane number and improves the ignition properties of the diesel fuel. It also protects the entire fuel system from corrosion and wear-and-tear. Thanks to its versatility, the Super Diesel Additive also offers protection for the engine, if the fuel quality should ever decline.
"Regular use of Super Diesel Additive offers the best cleaning performance," said David Kaiser, Head of Research and Development. "This allows the engine to regain its original values – both in engine performance and consumption. Expensive repairs can be avoided."
ABOUT LIQUI MOLY
With around 4,000 items, LIQUI MOLY offers a broad range of automotive chemicals, including motor oils and additives, greases and pastes, sprays and car care, glues, and sealants. Founded in 1957, LIQUI MOLY develops and produces exclusively in Germany.
There, it is the market leader for additives. The company sells its products in more than 120 countries and generated .544 million in sales in 2018.
How do you enter?
To be in with a chance of winning, all you have to do is answer the following question:
Deadline for entries is 10/02/2020. 
This competition is run in association with Liqui Moly and open to trade only. 
Terms & Conditions apply. 
Privacy Policy