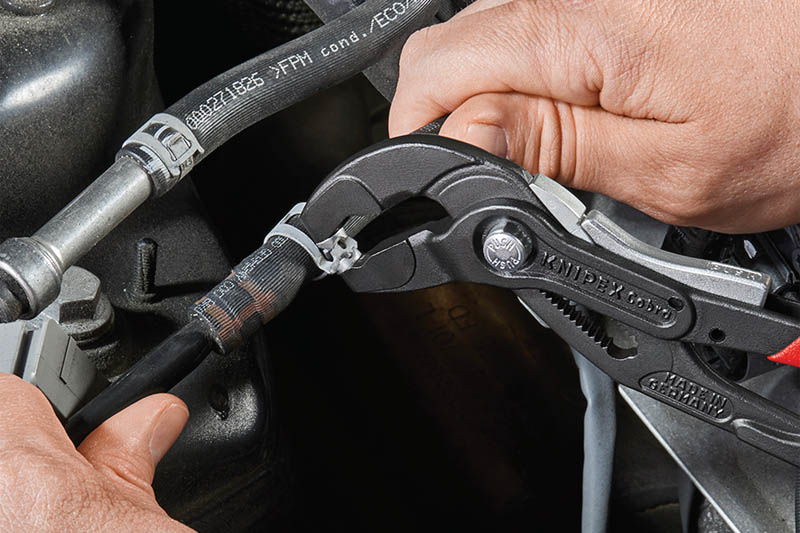 ---
Knipex is celebrating the countdown to its Christmas Advent Calendar competition by giving PMM's audience the chance to win one of five pairs of 85 51 250 AF Spring Hose Clamp Pliers.
---
Ideal for air suction, cooling, charge air, water return, thermostat, fuel and heating hose clamps, the Knipex Spring Hose Clamp Pliers feature universal grip inserts for reliably gripping clamps in all positions.
The jaw inserts can also be rotated under load and the pliers have extremely good leverage which allows clamps to be opened easily without great effort. The pliers have a slim head design and narrow head width, making this an ideal tool, especially in confined areas.
The 85 51 250 AF model features a locking device that enables simple and secure work on clamps under tension without effort. It allows for one-hand release and can be used for standard, spacesaving, spring wire hose clamps and for spring band clamps up to 70mm nominal size. The pliers allow more than 40mm clamping range.
Gripping action
If you want to see the potential prize in action, click here. If you would like to receive the latest information about Knipex and the company's range of products, sign up to the Knipex newsletter here.
How do you enter?
To be in with a chance of winning this great prize, all you have to do is answer the following question:
Deadline for entries is 10/12/2020. 
This competition is run in association with Knipex and open to trade only. 
Terms & Conditions apply. 
Privacy Policy