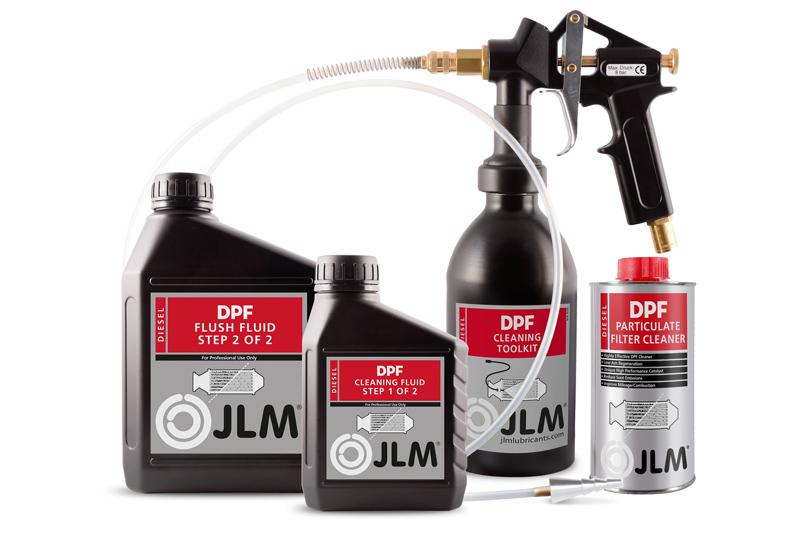 ---
PMM has teamed up with JLM to give readers the chance to win a fantastic professional DPF Cleaning Toolkit and Clean & Flush pack.
---
What can you win?
Kalimex, the UK distributor for JLM Lubricants, is celebrating the continued success of the professional DPF Cleaning Toolkit and Clean & Flush pack. Designed specifically for use by technicians, JLM claims that the kit will clean and revive a clogged DPF in around one hour.
The powerful clean and flush fluids will quickly break down trapped carbon allowing a regeneration to take place. This means that there is no need to remove the DPF or send it away for costly off site cleaning.
Said to be trusted by some of the UK's leading diesel specialists, the JLM DPF Cleaning Toolkit means you can keep diesel business in your workshop and get your customers back on the road. Up until now, when presented with a blocked DPF, a workshop could offer one of two legal recommendations:
■ Replace the DPF with a new unit, generally at a cost of over £1,000
■ Remove the DPF and send it away for cleaning
The latter is of course a lower cost option, albeit still in the region of £200 to £300, or more. But more importantly, the vehicle remains off the road for a day or two at least while the DPF is being cleaned and returned.
The Professional DPF Cleaning Toolkit from JLM Lubricants offers a solution that will enable any workshop to clean and flush a blocked DPF in just one hour. This means that a vehicle can be quickly put back on the road with minimum disruption to the customer.
To the workshop, this equates to a valuable additional service offering to help deal with a growing problem associated with low mileage or urban cycle diesel engines. The kit includes a powerful cleaning fluid; a flushing solution to remove any contamination, and a dedicated application toolkit.
---
How do you enter?
To be in with a chance of winning, all you have to do is answer the following question:
Deadline for entries is 10/06/2019. T&Cs apply. See website for details.
Deadline for entries is 10/06/2019.
This competition is run in association with JLM and open to trade only. 
Terms & Conditions apply. 
Privacy Policy
---