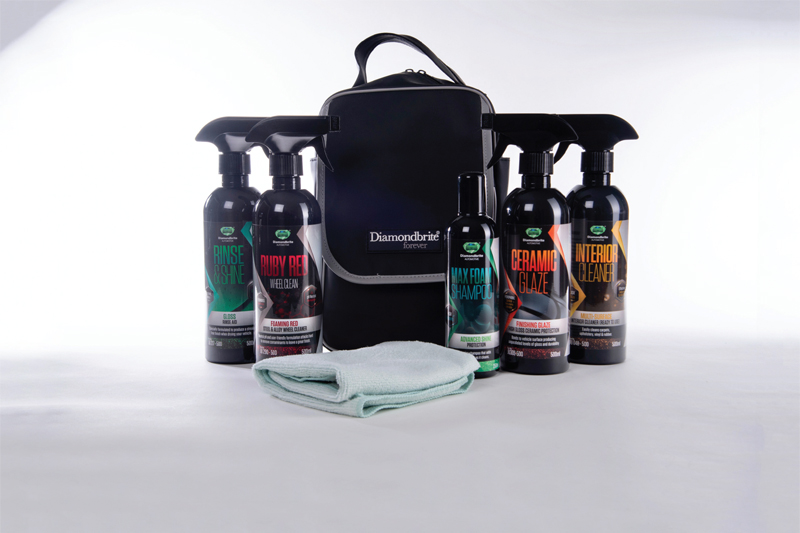 ---
Diamondbrite, manufacturer of award-winning cleaning products for automotive, motorcycle, leisure, and marine applications, is offering the PMM audience the chance to get their hands on a brand-new Car Care Starter Pack.
---
The comprehensive Diamondbrite Car Care Starter Pack is ideal for those looking to bolster their domestic cleaning supply with essential products required to get a vehicle shining to a thoroughly professional standard – all from the comfort of home.
The bundle pack contains: Max Foam Shampoo 250ml, Ruby Red Alloy Wheel Cleaner 500ml, Ceramic Glaze 500ml, Rinse and Shine 500ml, Interior Cleaner 500ml and a Microfibre Cloth – all packaged in a premium soft-shell bag.
Max Foam Shampoo
Diamondbrite's most advanced high foaming concentrated shampoo, Max Foam Shampoo, is derived from vegetable oils making it fully biodegradable. It claims to remove all types of dirt from exterior surfaces and adds a protective film as it cleans.
Ruby Red Alloy Wheel Cleaner
Ruby Red Steel & Alloy Wheel Cleaner has a neutral pH formulation providing amazing wheel cleaning power. Attacking stubborn contaminants, its red foaming characteristic leaves a great finish. Simply spray on, leave and rinse-off.
Ceramic Glaze
Developed using the latest nano-ceramic technology, Diamondbrite Ceramic Detailing Glaze is a finishing product that provides a hydrophobic coating, delivering quality levels of gloss with excellent durability.
Rinse and Shine
Specially formulated to aid the drying process with a streak-free finish, Diamondbrite Rinse and Shine imparts a protective hydrophobic coating to surfaces, making water bead away. Simply spray on after washing and dry with a suitable cloth.
Interior Cleaner
Easily cleaning soiled carpets, upholstery, vinyl and rubber, Diamondbrite Interior Cleaner's tigger action spray and effective detergent technology combine for fast and effective results.
Developed and manufactured at Diamondbrite parent company Jewelultra's Loughborough laboratory and production facility, the Car Care Starter Pack contains products rigorously tested by some of the most respected detailing professionals in the automotive, motorcycle, leisure, and marine industries.
Diamondbrite is generously giving away two Starter Packs, so make sure you check below to find out how to enter the competition.
How do you enter?
To be in with a chance of winning this great prize, all you have to do is answer the following question:
Deadline for entries is 10/09/2020. 
This competition is run in association with Diamondbrite and open to trade only. 
Terms & Conditions apply. 
Privacy Policy