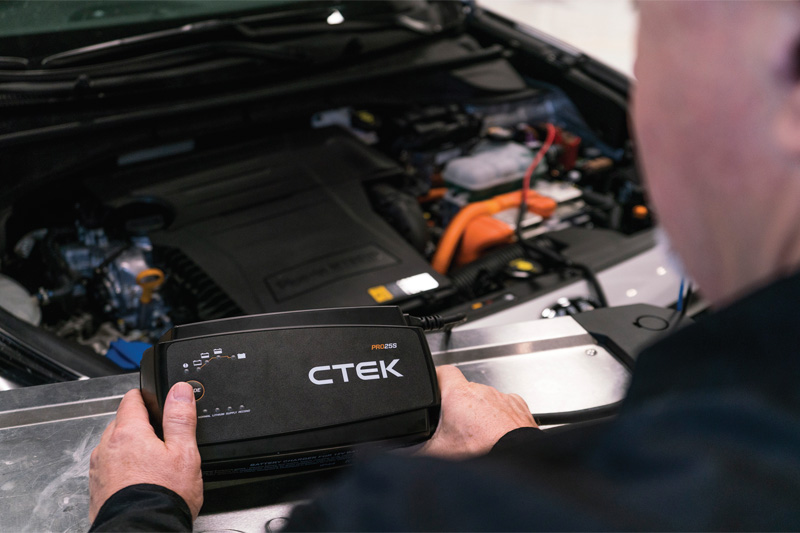 ---
PMM is offering the chance to win a CTEK PRO25S Battery Charger, which aims to support the battery during diagnostic and fault-finding work.
---
CTEK research has identified that as many as 50% of all vehicles arriving in the workshop have a battery problem – by that we mean it is undercharged or needs replacing – a threat that could cause you problems when carrying out work on your customer's vehicle. Couple this with the fact that battery performance can reduce by 35% when temperatures hit freezing, and fall by as much as 50 per cent if temperatures go even colder and it becomes more important than ever during the winter months that batteries are supported during winter servicing.
So, whether you are repairing a vehicle, testing electrical circuits, carrying out diagnostic procedures, flash programming ECUs or programming vehicle keys, battery support is a vital activity often not fully appreciated for its importance in saving technician's time, and insuring against costly programming failures, and preventing possible costly damage to the ECU.
The PRO25S from CTEK is a 25A battery charger and power supply that combines power and advanced technology with safety, portability and flexibility to work with any 12V vehicle battery, including lithium-ion (LiFePO4) – it's the perfect solution to support the battery during diagnostic and fault-finding work.
Tough, robust, and highly portable, the PRO25 uses the latest technology for maximised operating efficiency, reliability and protection against de-rating (a process whereby a battery charger will reduce power output as the operating temperature rises).
We strongly recommend that technicians hook the battery up to a battery charger, or support unit as soon as it enters the workshop to protect against costly battery failure. With the PRO25S you have a dedicated SUPPLY mode to support the battery during diagnostic or fault-finding work. This essential piece of workshop equipment has low voltage ripple, low current ripple, and a range of integrated safety features. So, it's safe for the battery and the vehicle's delicate electronic systems.
Even more features
The PRO25S is also a fast a powerful battery charger and conditioner too, that will ensure that a safe, fast charge is delivered to exactly meet the needs of the individual battery. A builtin temperature sensor will adjust the charge rate, depending on temperature, to achieve maximum charge levels. The charger also has a dedicated reconditioning programme to restore battery life and recondition flat batteries.
The PRO25S is fully automatic and easy to use. It's also very simple to connect, spark-proof and reverse-polarity protected to protect the user and also the battery. Designed to ensure easy handling in the workshop, it's lightweight and portable. A rugged, impact-resistant casing means the unit can also handle the toughest environments. It also comes with a two-year warranty.
As vehicle technology continues to develop, there is an even greater demand for battery support during a standard vehicle service. Workshops are in need of a safe and versatile charger, with the ability to deliver a rapid charge, so that the battery, the very heart of the vehicle, doesn't leave the workshop in a poor state of health. The new PRO25S is the perfect solution to everyday battery charging & support in the workshop.
How do you enter?
To be in with a chance of winning, all you have to do is answer the following question:
Deadline for entries is 10/02/2022.
This competition is run in association with 

CTEK
and open to trade only.