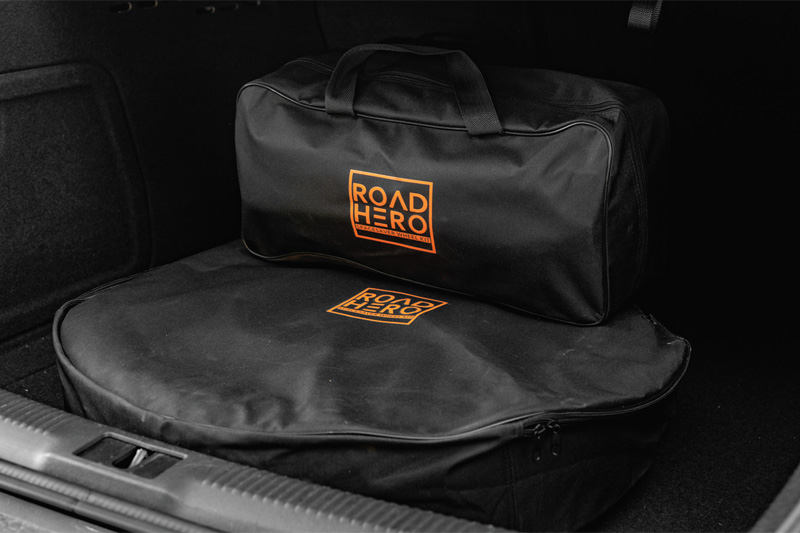 ---
Driver safety brand Road Hero is providing one lucky reader with a Road Hero kit, worth over £200!
---
The feeling of dread that you experience as you realise your vehicle has a puncture is an all too familiar one for many motorists. Thankfully, Road Hero has stepped up with a simple, tailored spare wheel solution to make sure that the next puncture is an inconvenience, rather than a show-stopper.
Punctures are nothing new, of course. But what is new is that the vast majority of cars sold in the UK since 2012 don't have a spare wheel fitted. On some cars it's a costly option, but on many, you're left with a can of foam and a great deal of hope to get you home. This is fine if you're dealing with a simple nail in the middle of the tyre, but if it's sidewall or rim damage that's caused your deflation, then recovery service is needed.
Thankfully, it doesn't have to be this way. Each Road Hero kit is precisely tailored for your car, and is specific to the model, year and body style. Inside the black bag is everything you'd ever need to swap your punctured wheel and be on your way in just a few minutes.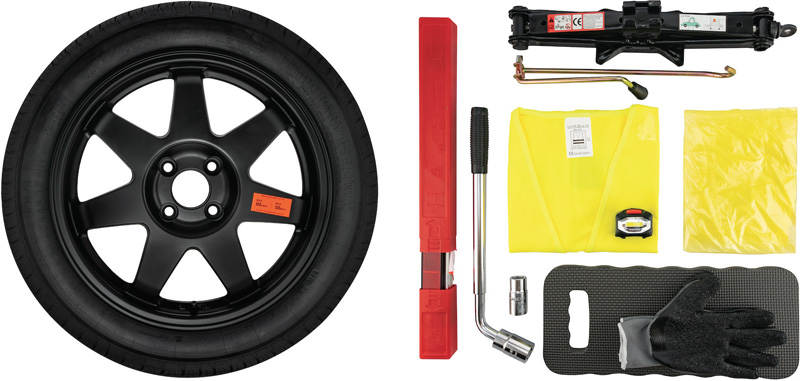 The kit doesn't just contain the spare wheel, jack, and brace that you might expect, though. Also included is a warning triangle, hi-vis vest, head torch, rain poncho, kneeling mat and even heavy duty gloves. So, if you find yourself dressed in your Sunday best during a downpour, you've got every chance of staying clean whilst being seen.
The spare wheel itself is of the alloy 'space saver' type. Not only light in weight and easy to handle, it's also compact in size, taking up the minimum amount of boot space. The tyres fitted are good for 50 miles at a top speed of 50mph, enough to get you to your destination.
It really is as blissfully simple as that; grab a Road Hero kit, keep it safe in the boot – and drive on.
ABOUT ROAD HERO
In 2012, vehicle regulations changed and manufacturers were no longer required to provide a spare wheel. Since then, breakdown recovery companies have noticed a rise in breakdowns due to punctures and other tyre related problems. Road Hero was manufactured to help ease this issue and to help you get home safely.
Road Hero is a product distributed by Wheelwright, a company with strong roots in the automotive business. Since 1980, Wheelwright Ltd has been supplying steel and alloy wheels to the motor trade, and now Road Hero, which is available through the network of approved retailers.
How do you enter?
To be in with a chance of winning, all you have to do is answer the following question:
Deadline for entries is 10/02/2020. 
This competition is run in association with Road Hero and open to trade only. 
Terms & Conditions apply. 
Privacy Policy