---
The latest Lucas Oil display stand is designed to help garages to demonstrate that some of the best tools in their garage are additives.
---
As the front line technical experts, garages must be able to show their customers how to achieve better MPG and avoid expensive maintenance work in order to meet the latest MOT emissions standards.By choosing the right solution for the appropriate problem, garages can save their customers money and make a reasonable return at the same time.
What can you win?
Your garage could be the lucky winner of a Lucas Oil Products display stand, complete with £500 worth of products. All of the additives are from the Lucas Oil problem-solving range. The stand is designed as a highly visible retail feature for either the reception area or the workshop. It's designed to help highlight the garage's response to tighter MOT regulations and provide customers with an opportunity to buy the products for themselves.
Each stand contains:
■ UCL Fuel Treatment, which increases fuel economy, helps to reduce emissions and lubricates fuel pumps.
■ Complete Engine Treatment, which delivers lubricating protection for either the engine block or the fuel system. Added to every service package, garages get the chance to increase sales and boost customer satisfaction ratings, while saving their customers significant amounts of money over the long term.
■ Safeguard Ethanol Fuel Treatment protects fuel pipes, seals and other fuel systems components in older vehicles from attack by ethanol additives in fuels.
■ Fuel Stabilizer is used to protect against fuel degradation in cars left standing for long periods (in garages during winter, for example).
■ Deep Clean and Diesel Deep Clean are more intensive cleaning products. They remove the tars and resin deposits that build up inside the fuel system over the long term.
■ Octane Booster is a high-performance additive used to protect high performance engines and delivers easier piston travel, lubricates rings and improves cylinder life.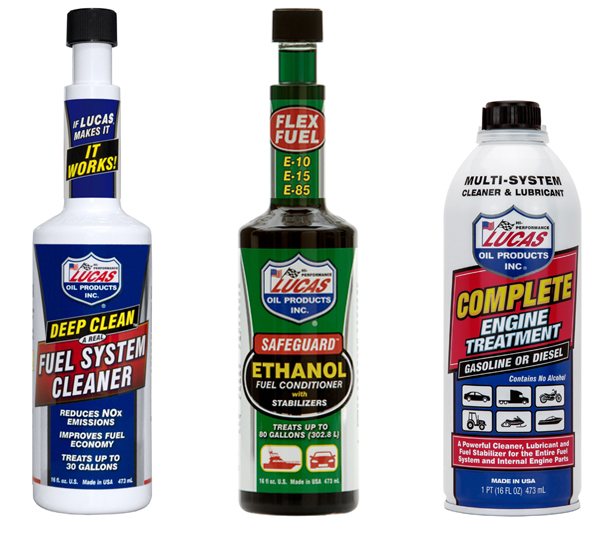 ---
How do you enter?
To be in with a chance of winning, all you have to do is answer the following question:
Deadline for entries is 10/01/2019.
This competition is run in association with Lucas Oil and open to trade only.
Terms & Conditions apply. 
Privacy Policy
For further information from
Lucas Oil, click here.