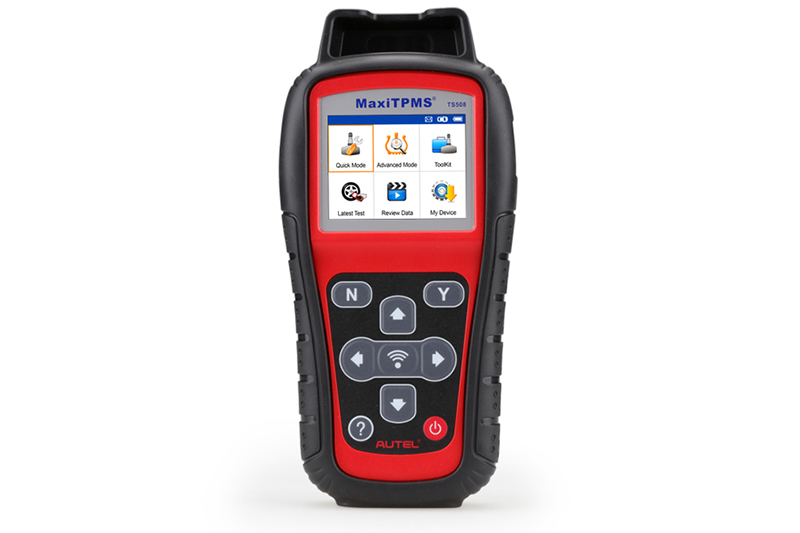 ---
This month, we turn to Autel's range of TPMS and calibration tools and even give our readers the chance to win one for themselves.
---
Autel's TPMS tools aim to provide high performance and offer reprogramming capacity with TPMS diagnostic functions. The devices are compatible with the Autel MX-Sensors which feature a coverage of 95% of the European, Asian and American vehicles. Autel's MaxiTPMS tools aim to provide the best solution for technicians operating in the tyre field and allow them to offer a complete maintenance service.
The tools of the MaxiTPMS line can read any OEM/Universal sensor, reprogramme the Autel MX-Sensors and turn off the TPMS warning lights. Compared to previous generations of TPMS tools from the brand, the current crop have made an effort to increase precision, speed and stability.
MAXITPMS TS508
This tool has four programming methods and is specially designed to activate all known TPMS sensors, read the TPMS sensor status, check TPMS system health conditions, programme MX-sensors and conduct TPMS relearn procedures.
With Quick Mode and Advanced Mode options, you can save time by choosing the most suitable way to complete work. The TS508 has all the features of the previous TS408, but also has the ability to extract ID codes via the OBDII interface, and can display faults detected. The TS508 also has TPMS read and clear DTC capabilities, so it can be used as a standalone TPMS fault finding tool.
Features:
Reading and copying of universal TPMS sensors
Prints sensor data via USB
Autel TPMS sensors programming
Inputs sensor ID in the control unit
4 x MX Sensor programming methods
High vehicle coverage
Sensor learning via OBD
TPMS fault scanning
TPMS DTC read and clear MX808TSC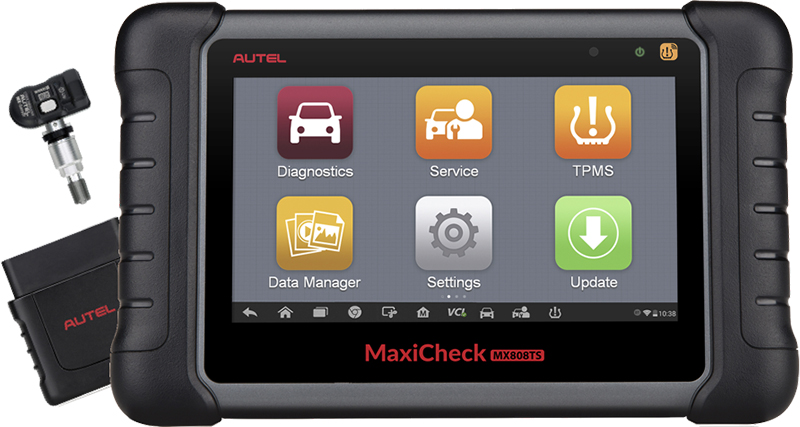 MX808TSC
As the first comprehensive TPMS and Diagnostic tool in the market, the MX808TSC attempts to offer workshops superior capability of TPMS health checking, sensor programming, TPMS relearn, as well as all system diagnostics and special service functions.
Its diagnostic software tool supports ABS, SRS, SAS, BMS, DPF, EPB, oil service and TPMS sensor programming functionality, as well as read and clear diagnostic functions for over 70 manufacturers. A fast go-too tool for undertaking many service functions, it is lightweight, has an ARM Cortex-A9 processor, and is portable. The MX808TSC is equipped with a 7 in. touchscreen with 1024 x 600 resolution and a Bluetooth VCI mini for wireless communication with the vehicle.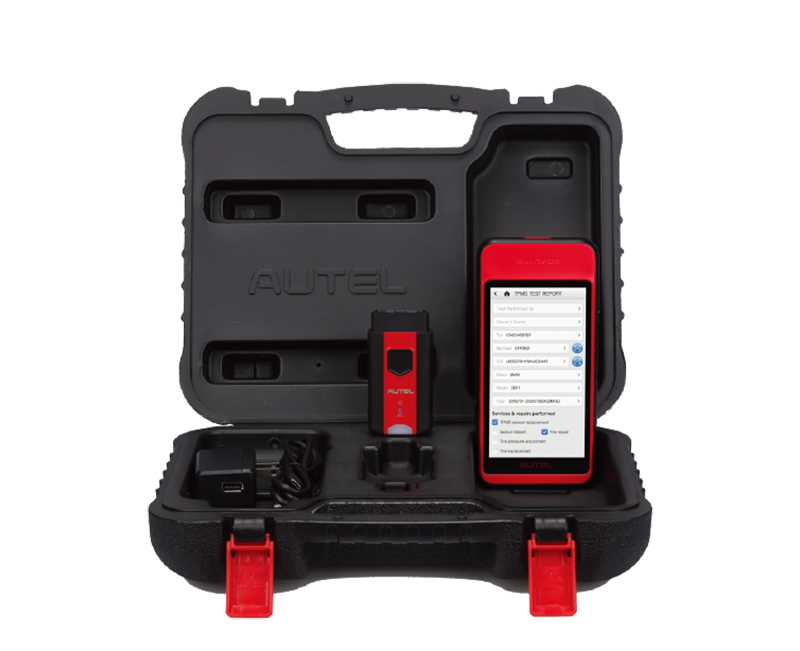 MAXITPMS ITS600 WIFI
The ITS600 is Autel's new TPMS tool designed to work in conjunction with the new TBE tyre wear and brake disc wear tool. The ITS600 has a wifi module so you can update the tool wirelessly, rather than having to connect to your PC.
Features:
Optical scanner identifies VIN/MMY
Exclusive TPMS status screen
Fast OBD ll relearn for most domestic vehicles
Copy by OBD sensor programming for faster service
Batch programme up to 20 Autel 1-Sensors
Activate, read, relearn all known TPMS sensors
Wireless OBDII connection via Bluetooth VCI
Tyre pressure placard value reset
Includes four commonly used maintenance service functions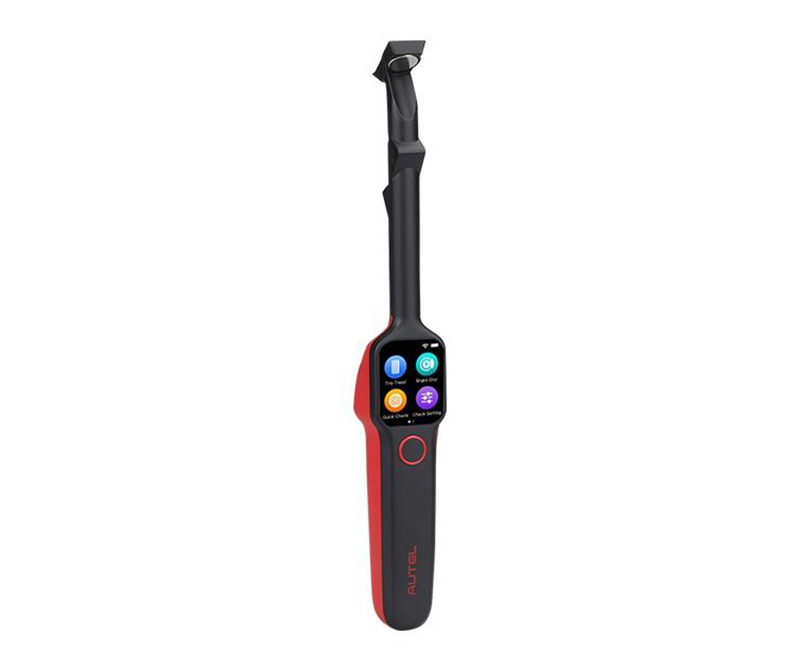 MAXITPMS TBE100
This laser-enabled tyre tread depth and brake disc wear examiner provides users with "quick and accurate" wear measurements. It enables technicians to measure brake disc wear without having to remove tyres. It features a 1.1 in. AMOLED super retina touchscreen, displaying measurement data in real-time.
The TBE100 can provide detailed replacement and maintenance suggestions for quick tyre service, document tyre wear and damage, and scan the Tyre Identification Number (TIN). Use the tool separately, or with the ITS600 to view and print detailed TPMS reports.
Features:
Larger screen and zoom camera
1.2 in. AMOLED super retina touchscreen
1 mega-pixel macro camera
Measurement data curve display/uneven wear analysis
Detailed replacement and maintenance suggestions
Test detail for single tyre tread/brake disc
Tyre expiration notice/tyre recall lookup/scan DOT
Wheel Alignment & ADAS Calibration
IA900WA
Features:
24 in. touchscreen monitor simulcast from MaxiSYS Ultra MaxiSYS Ultra tablet cradle with controls
MaxiSYS interface instead of PC for wheel alignment
Robotic frame movement
Precise optical measurement with six high resolution cameras
Self-calibrating cameras
Cameras automatically track vehicle height on lift vehicle inspection of tyres, brakes, suspension, steering, and more
Mark service recommendations, attach photos and notes
Live alignment reading display
Illustrated alignment instructions, live readings, required tools, and adjustment locations display on a single screen
The industry's "fastest and most accurate" frame placement in as little as a minute.
Set ADAS calibration target height with the push of a button. Step-by-step illustrated full-color instructions walk the user through the ADAS calibration process
Want to know more? For more information, click here.
To be in with a chance of winning one of Autel's TS508 TPMS tools, all you have to do is fill out the form below:
Deadline for entries is 10/09/2022.
This competition is run in association with Autel and open to trade only.
Terms & Conditions apply. 
Privacy Policy