---
To help clear away that winter muck, Revive is offering 10 lucky readers the chance to get their hands on a Revive Turbo Cleaner Starter Kit!
---
Revive treatments are safe, water-based, non-toxic, non-corrosive and non- flammable fluids, that use technology developed for the cleaning and maintenance of aviation jet engines, power station turbines, large marine diesel engines and now automotive engines.
The treatment is sprayed into the vehicle's intake system and then the turbo inlet, whilst the engine is running. As the fluid passes through the engine system, it locks on to build up oily/carbon deposits and strips away a surface layer. These tiny carbonised particles are then carried away out through the exhaust system, without blocking catalysts and filters.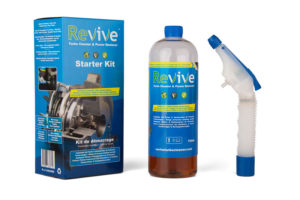 Starting with a cold engine, unclip the intake trunking after the air filter. Spray Revive in three doses of 250ml into the intake, first with the engine running at 2200rpm, next at 1800rpm. Stop the engine for three minutes, re-start the engine, then finally spray again at 2000rpm. It is worth running the engine for a few more minutes, until the cleaning fluid has worked out of the system. Take the vehicle for a 20 minute drive, whilst the formula does its job. The Revive cleaning process can be performed before a service, allowing the vehicle to be checked over and filled with clean oil.
---
HOW DO YOU ENTER?
To be in with a chance of winning this easy-to-use turbo cleaning starter kit, all you have to do is answer the following question (the answer to which can be found somewhere on this page). Simply email your answer to win@reviveturbocleaner.com along with your full trading name, business address and contact telephone number, or,  by circling the corresponding number on the magazine Readerlink card in the February issue of PMM. 10 winners will then be chosen at random from the correct entries.
Q.At what rpm should the engine be running for the final dose of Revive cleaning fluid?
Deadline for entries is 10/03/2017. Usual T&Cs apply.