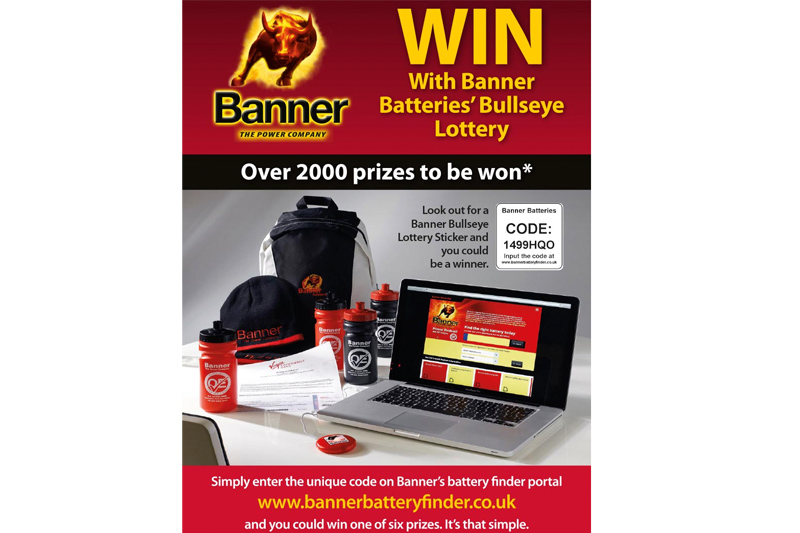 ---
Banner Batteries has announced details surrounding its latest Bullseye sales promotion campaign.
---
Building on the success of two previous campaigns implemented in 2016, Banner is kick-starting 2017 by rolling out a prize busting Banner Batteries' Bullseye Lottery promotion.
With over 2000 prizes up for grabs, the campaign centres on a Bullseye Lottery Sticker that contains a unique and potentially winning code.
Outlets locating one of the battery-mounted stickers simply need to enter the code on Banner's battery finder portal – www.bannerbatteryfinder.co.uk – to see if they're a winner, those that are being notified via email. Prizes on offer include a number of Virgin Driving Experience Days, sports backpacks, beanie hats, sports drink bottles, stress bulls and in-car air fresheners.
"Based on the success of last year's Bullseye promotions, we are looking for this latest spin-off to take us to new heights. Many of Banner's UK customer base have already signed up to the promotion and they are eagerly awaiting its roll out," states an enthusiastic Lee Quinney, Banner Batteries' UK Country Manager.
"By having to locate a battery mounted lottery sticker we are optimistic that this will increase people's propensity to get involved, which in its own right creates a fun element. What's more, by having to check using the Banner Battery finder portal only serves to increase the excitement," he added.
In developing this latest Lottery Sticker theme, Banner Batteries will not only be able to monitor real-time uptake of the promotion, tying it into Banner's battery finder tool serves to provide additional support to both the distributor and their garage customers, something that Quinney is keen to point out and which he sees as being invaluable.
"By dictating that the battery finder is used in this year's promotion, not only will this help ensure that the optimum replacement battery for a vehicle is quickly and efficiently identified, the same is equally applicable when it comes to other product information, in particular the correct fitting instructions," concludes Quinney.
The Banner Bullseye Lottery promotion will run until March 31.
---
For further information from
Banner Batteries
or to see the full product range, click
here.