---
PMM has a T10 Battery Electrical System Analyser to give away, courtesy of J&S Products.
---
Automotive battery applications:

CCA/SAE:100A ~ 2000A / EN: 100A ~ 2000A / CA/MCA:100A ~ 2000A / IEC: 100A ~ 2000A / DIN: 100A ~ 2000A / JIS#: 100A ~ 2000A

Motorcycle battery applications:

CCA/SAE: 40A ~ 600A / EN: 40A ~ 600A / CA/MCA: 40A ~ 600A / IEC: 40A ~ 600A / DIN: 40A ~ 600A / JIS#: 40A ~ 600A
According to J&S Products, the T10 Battery Electrical System Analyser is a perfect addition to any garage. Just like all tools from J&S, the T10 is claimed to be high quality and built to last, requiring no maintenance during its lifetime use. With its robust outer shell, it'll survive in even the toughest of workshops and when not in use, it can be stored in its own heavy-duty storage case. It has an easy to read, Large LCD Touchscreen and a full graphical interface, adding to the ease of use.
The T10 is reverse polarity protected and extremely safe, as there are no sparks created during clamping. Fully analysed results take less than eight seconds to obtain, and the on-board memory allows you to store up to 70 test results, as well as print them off using the built-in printer. The T10 connects to your PC/laptop via USB port.
The T10 analyses the battery condition using microprocessor controlled testing methods without the need to fully charge it before test, which will save you time. It also consumes very little current during testing, hence the test can be repeated numerous times without any worries concerning battery drainage, and results remain highly accurate.
The T10 can perform battery tests, grounding tests, starter tests and alternator tests (with diode ripple test) on a variety of automotive and motorcycle batteries.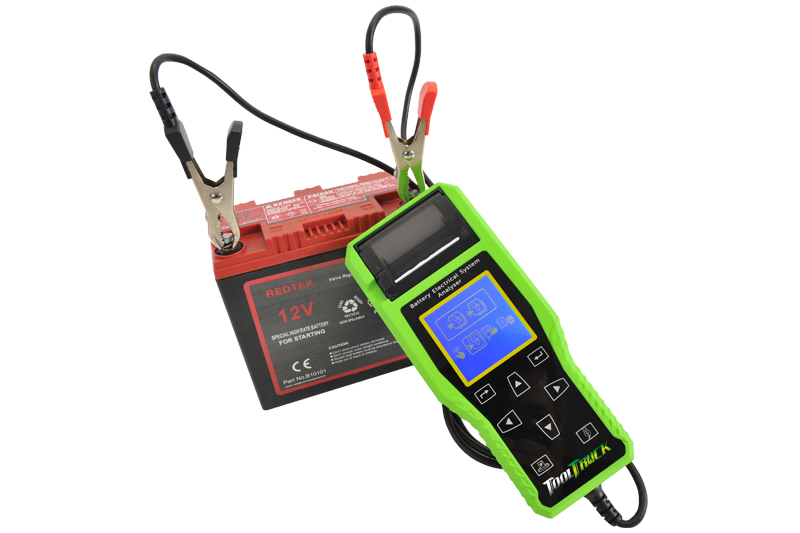 How do you enter?
To be in with a chance of winning, all you have to do is answer the following question (the answer to which can be found in this article):
Deadline for entries is 10/09/2018.
This competition is run in association with J&S Products and open to trade only.
Terms & Conditions apply. 
Privacy Policy
---
For further information from
J&S Products, click here.