---
Some jobs require a wrench which can reach particularly confined areas of a vehicle, and in this instance a 1⁄2" impact wrench might be the ideal solution. Chicago Pneumatic provides three examples of 1⁄2" Impact Wrenches that would benefit any toolbox, particularly when tackling challenging applications.
---
First is the CP7737 Angle Impact Wrench. At just 240mm in length and 88mm in height, it allows the user to access areas where manoeuvrability with a standard tool would be difficult. The moulded composite and advanced ergonomics of the handle means it easily fits into the user's hand and provides them with the comfort they need during jobs.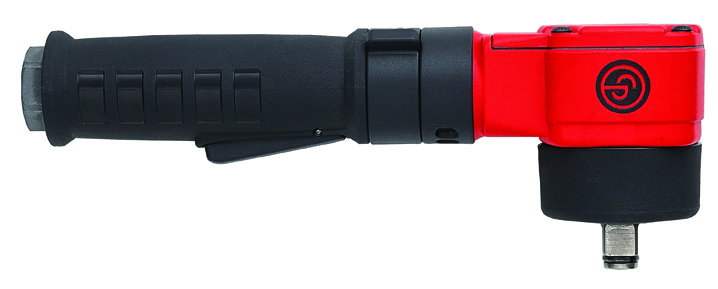 The positioning of the motor, combined with a jumbo hammer and direct drive mechanism, means the new angle impact wrench is better balanced, robust and more efficient on the job. Weighing only 1.12kg means users can work with the tool for longer periods of time without being subject to fatigue. The tool can be operated single-handedly with a full teasing trigger, giving great control to the operator and enabling them to easily remove or tighten fasteners in the most difficult to reach applications.
Difficult access areas are also easily approached with the Composite Stubby CP7732C. This impact wrench weighs just 1kg and is just 112mm in length, whilst still providing a maximum torque of 625Nm in reverse. The compact impact wrench is suitable for use inside the vehicle and engine compartment for jobs on oil pans, seat bolts and body panels where tight spaces restrict the movement of conventional tools.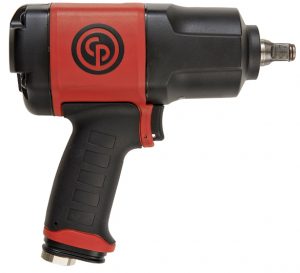 The tool is ergonomic and has been designed for maximum user comfort with a composite housing and thermo-plastic rubber handle. Users will appreciate the smooth mechanism of one hand forward/reverse, and a new power setting system. The ergonomic curved handle reduces tension in the mechanic's hand and helps reduce chances of an injury. In addition, because it is lighter than alternative tools, operators experience less fatigue. Furthermore, a full teasing trigger gives the user easy, controlled operation. Lastly is the best-selling and most popular pistol grip tool. CP7748 features:
■ One-handed forward/reverse
■ Full power in reverse: 922ft-lbs/1250Nm
■ Three positions in forward:
■ Low – 180ft-lbs/245Nm
■ Medium – 480ft-lbs/650Nm
■ High – 730ft-lbs/990Nm
■ Aluminium clutch and back housing
■ Friction ring socket retainer
■ Full teasing trigger
■ Curved shape to be more ergonomic
■ Smaller diameter to fit better in palm and to be optimally balanced
■ Handle with Thermo-Plastic Rubber injected in housing for a durable and comfortable grip (resistant to most chemicals used in workshops)
■ Twin Hammer mechanism
■ 360° swivel air inlet
■ Composite housing
---
WHAT CAN YOU WIN?
Chicago Pneumatic is offering one lucky PMM reader the opportunity to win all three of the products mentioned in this article; CP7748, CP7737 and CP7732C.
HOW DO YOU ENTER?
To enter the draw, all you have to do is answer the following question (the answer to which can be found in this article):
Deadline for entries is 10/06/2018.
This competition is run in association with Chicago Pneumatic and open to trade only.
Terms & Conditions apply. 
Privacy Policy
---
For further information from
Chicago Pneumatic, click here.